Press release
"Le Tour" campsite owners urged to be prepared
Landowners of temporary campsites urged to put a flood plan in place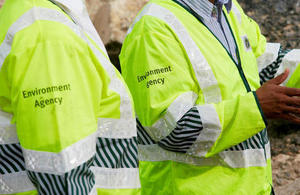 Farmers and landowners setting up temporary camp sites for cycling enthusiasts next month are being urged to have a flood plan in place to keep campers safe.
Hundreds of thousands of tourists are expected to line the route of the Tour de France when it travels through some of the most beautiful parts of Yorkshire on July 5 and 6.
Most of these areas are also prone to flash flooding during summer thunderstorms, which could lead to waterlogged fields and rising rivers and streams.
Although we're all hoping it won't be a wash out, the Environment Agency wants to ensure campers stay safe and is urging landowners to have a proper plan in place should the heavens open.
Flood manager Innes Thomson said:
Thunderstorms can be really difficult to predict and flash flooding can happen very quickly. We want to ensure that anyone camping in the area can stay safe by knowing what to do in the event of a flood.

Landowners and campsite owners can play their part by having a plan in place which highlights what action needs to be taken in an emergency situation.
Flood resilience staff will be out and about before the Tour begins to provide information to as many campsite owners as possible. But if you're allowing people to camp on your land Environment Agency advice is:
Ensure visitors are aware of the risk and know what to do in a flash flood;
Prepare a plan for flash flooding just as you would for a fire;
You are likely to have little or no notice and you may have to take action before emergency services can reach you;
Think about who needs to do what and identify a safe place for people to go;
Never walk or drive through flood water.
Also ensure that your site facilities are set up correctly to avoid polluting any nearby rivers or streams.
For more information about how to prepare for flooding, including putting together a flood plan, visit gov.uk/prepare-for-a-flood
To get the latest information and check the three-day flood forecast visit our flood warning pages or call Floodline on 0345 988 1188 or 0845 988 1188.
Published 10 June 2014