News story
LawWorks and Attorney General's Pro Bono Student Awards
Attorney General Dominic Grieve QC MP presented the LawWorks and Attorney General Student Awards at the House of Commons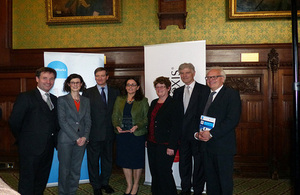 The LawWorks and Attorney General's Pro Bono Student Awards 2014 took place on Tuesday 1 April at the House of Commons.
Speaking at the event, the Attorney General told the audience:
The Student Awards have become a hallmark of the Student Pro Bono project at LawWorks. They present a fantastic opportunity to acknowledge a group of committed and hardworking law students who have gone above and beyond to help increase access to justice in their community.
It is excellent to see law students from across the country shortlisted for these Awards in a number of diverse and rewarding projects. You should all be extremely proud of your achievements. It is this enthusiasm, innovation and generosity of spirit at this early stage of your careers that preserves the strong pro bono ethos amongst the legal profession in the UK.
The list of winners and nominees are:
Best contribution by a law school
Winner: University of Northumbria
Runner up: University of Kent
Highly commended:
London South Bank University
Queen Mary University of London
Teesside University
Best contribution by a team of students
Winner: Hillsborough team, University of Liverpool
Runner up: UEA/NCLS welfare benefits advocacy team
Highly commended:
BPP Leeds Streetlaw and mock trials team
University of Strathclyde executive committee
Best contribution by an individual student
Winner: Jacqueline Wall, University of Strathclyde
Runner up: Dale Timson, BPP Law School Holborn
Highly commended:
Christopher Williams, University of Liverpool
Ella Davis, Nottingham Trent University
Joy Lewis, Nottingham Trent University
Best New Student pro bono activity
Winner: Ulster Law Clinic, University of Ulster (pictured with the Attorney General, Lord Phillips of Sudbury and Paul Newdick Chairman of LawWorks)
Runner up: University of Huddersfield Legal Advice Clinic
Highly commended:
Trafficking Legal Research Internship (TLRI),
BPP University Holborn
University of Hull Family Law Clinic
Access to Justice Foundation essay competition
Winner: Oliver Low
Highly commended: Edward Beedham and Kate Parker. Oliver's Essay on the importance of pro bono in legal education will be featured in the New Legal Journal.
Law school challenge:
Congratulations to Kings College London as the winners of the LawWorks and Bar Pro Bono unit law school challenge 2014, raising a phenomenal £2008.30.
The panel of judges were:
Andrew Caplen – Vice President, The Law Society of England & Wales
Isla Grant – Editor, LawCareers.net
Richard De Friend – Ex-Director of Pro Bono at College of Law and PBUK
Thomas LaidLaw – Head of Academic Development, LexisNexis
Published 7 April 2014