World news story
Launching the UK-Malaysia Alumni Initiative in Malaysia
Strengthening strategic engagement with Malaysian UK Alumni by creating & enhancing mutual commercial, diplomatic & cultural opportunities.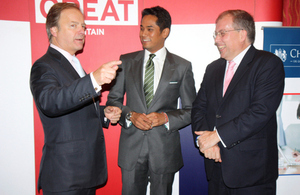 The British High Commission in Kuala Lumpur announced the launch of the UK-Malaysia Alumni Initiative at the High Commissioner's residence on Wednesday (26 June).
The initiative was launched by British Foreign Minister Hugo Swire and witnessed by Malaysian Youth and Sports Minister Khairy Jamaluddin, a UK alumnus.
The UK-Malaysia Alumni Initiative is aimed at strengthening the British High Commission Kuala Lumpur's strategic engagement with Malaysian UK Alumni whilst creating and enhancing mutual commercial, diplomatic and cultural opportunities for both countries.
The initiative will, among others, focus on promoting the integration of the British Council, British Graduates Association Malaysia and freestanding institutional alumni networks (Chevening Alumni, The Oxford & Cambridge Society, London School of Economics Alumni, etc) and strengthening the UK education brand.
It will also play a crucial role in facilitating new trade and investment opportunities between both countries, in keeping with the agreement between both Prime Minister David Cameron and Prime Minister Najib Razak to double trade and grow investment by 2016.
Minister Hugo Swire said:
There is no better place to roll out this programme than in Malaysia, which is home to an estimated half a million UK alumni. This initiative goes hand in hand with our efforts to strengthen ties with the UK and Malaysia. We hope to contribute to Malaysia's prosperous future, not only in trade and commerce, but also in culture, education and development, and in foreign policy and security. In the UK, Malaysia has a lasting and committed partner.
British High Commissioner HE Simon Featherstone, who hosted the event, said:
There are a significant number of very successful and dynamic UK Alumni associations across Malaysia. The British High Commission's Alumni programme will serve as a platform for Malaysian UK alumni to meet and interact with each other, to share knowledge and expertise and develop opportunities across all sectors.
Education is at the heart of the bilateral relationship. There are currently 14,250 Malaysian students studying in the UK and 500,000 Malaysian UK Alumni, representing a wealth of knowledge, expertise and influence. Prime Minister Najib Razak is an alumnus of the University of Nottingham and 44% of the present Malaysian Cabinet studied at universities in the UK. During the 2011/12 academic year, Malaysia ranked 5th among the top 10 non-EU countries sending students to Britain to study.
Further Information
Follow Foreign Office Minister Hugo Swire on twitter @HugoSwire
Follow the British High Commission on facebook and twitter
Blog on the visit and wider mission What Defines Our Relationship?
Published 26 June 2013