World news story
Launch of UNCTAD E-Trade for all, UK Statement
This statement was delivered by the UK at the launch of eTrade for all Online Platform as part of the UNCTAD e-Commerce Week in Geneva on 25 April 2017.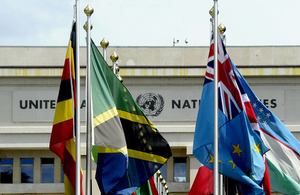 It is a genuine pleasure to take part in E-commerce Week and I congratulate UNCTAD on putting together an exciting and dynamic programme of events and for hosting such a broad range of partners. During the week we will discuss in depth a series of pressing and interrelated issues, from cybersecurity to development, from online payments to the opportunities for micro-, small and medium sized enterprises. Of course, at the heart of the discussions is the digital economy.
The digital economy, and e-commerce in particular, is an important driver to wider economic growth. It is the modern economic reality. We must ensure that we do everything we can to facilitate and encourage digital trade as we continue the drive towards increasing trade liberalisation more generally. The United Kingdom continues to make the case for supporting digital economic growth across the international system. Access to the internet has been estimated to have the potential to generate over $2.2 trillion in additional GDP and more than 140 million new jobs in the developing world. So we must work together to connect those many millions of the world's citizens who are still offline. This will prove to be as much about policy choices as it is about straightforward infrastructure investment.
In addition, the digital economy can only thrive within a free and open internet support by multi-stakeholder governance, with effective cyber security knowledge and practices. Traders, service providers and their customers - all of us - need to have confidence in the modern electronic marketplace.
Therefore ensuring that all countries are able to access the benefits which E-Commerce can offer is crucial for alleviating poverty by contributing to a truly inclusive global trading system. UNCTAD is one of a number of Geneva institutions at the heart of this shared project.
The clearest example of this shared endeavour is E-Trade for All.
As part of the United Kingdom's determination to keep the digital economy central to our work, I am delighted that the UK is among those who have provided support for the development of E-trade for All. E-trade for All is an innovative, cross-institutional initiative. Its goals are clear.
Firstly, to deepen our shared understanding of the risks, opportunities, challenges and solutions around e-commerce. We are in no doubt from our discussions in UNCTAD and elsewhere, not least the WTO, that a common understanding of the issues is essential to drive forward a multi-lateral, development-focussed digital trade agenda.
Secondly, to mobilise resources in support of e-commerce projects in the developing world. This week we will see the launch of Egypt's e-commerce strategy, and the UK is among partners who have worked with UNCTAD to support the Government of Rwanda deliver its own ambitious plans on e-commerce. I am delighted to be able to confirm that UK funding for this work will continue through the new financial year.
And thirdly, to help partners to work more effectively and efficiently together on this important agenda. As this is a new and complex area of work, involving many public and private actors, we can all derive reassurance that policy coherence and operational synergy are such important elements of the initiative. The E-Trade for All Online Platform, to which the UK has provided financial support, will play an important role in delivering this objective.
We look forward to working with UNCTAD and our partners in the E-trade for All initiative partners as it continues to develop and grow.
Published 25 April 2017