World news story
Launch of UK-Kuwait Business Council in London
This was published under the 2010 to 2015 Conservative and Liberal Democrat coalition government
The Council aims to boost trade and investment relations between the two countries.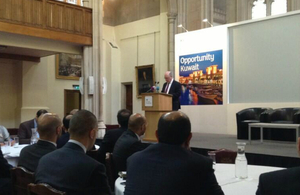 London witnessed the 'strongest' ever UK- Kuwait gathering, as described by a member of the Kuwaiti official delegation, during the "Opportunity Kuwait Conference" held in London between 7-9 May. The event also saw the launch of UK-Kuwait Business Council, which aims to enhance trade relations between the two nations, and was attended by senior British and Kuwaiti officials and businessmen.
During the event, the Kuwaiti delegation explained the serious steps the Kuwaiti Government has been taking to welcome foreign investment, including opening up the Kuwaiti market and facilitating doing business in the country. The British side welcomed the opportunity and stressed how keen British businesses are to work in Kuwait, where the UK has historically strong trading links.
Cabinet Affairs Minister and State Minister for Municipal Affairs HE Sheikh Mohammed Abdullah Al Mubarak Al Sabah, Commerce and Industry Minister HE Anas Al Saleh, Communications, Housing, and Transport Minister HE Salem Al Uthaina, and Kuwait Foreign Investment Bureau Chief Sheikh Mishaal Al Sabah all represented the Kuwaiti government at the event. The well-known businessman Mr Mohammed Al Shaya, Executive Chairman, M H Al Shaya Co represented Kuwaiti businesses.
Some of the event was about dispelling misconceptions and encouraging UK businesses to come to Kuwait; Mohammed Al Shaya said
our company employs 1600 UK nationals, we turn over $ 4 billion per year, who says multi-national companies can't be run from Kuwait!
Alistair Burt MP, FCO Minister for Middle East and North Africa, Lord Marland, the Prime Minister's Trade Envoy, HE Frank Baker, Her Majesty's Ambassador to Kuwait and other senior officials represented the British Government.
Minister Burt said:
Kuwait's National Development Plan can help the UK reach its target of doubling biateral trade by 2015.
Simon Linnett, Executive Vice Chairman, Rothschild was there and said:
I am impressed by the vibrancy, the youth and vitality of Kuwait.
The UK- Kuwait Business Council is chaired by Lord Marland from the UK and Mohammed Al Shaya from Kuwait. The Council aims to boost trade and investment relations between the two countries. It will also seek to remove the obstacles hindering a swift exchange of investments between the UK and Kuwait.