Press release
Launch of public consultation on sanctions legislation
The consultation will last nine weeks and will help determine the legal powers needed to maintain the UK's sanctions capability.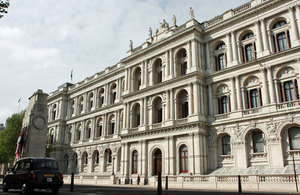 The Government has today launched a public consultation on proposals for new legal powers needed for imposing and implementing sanctions once we leave the European Union.
Sanctions are an important foreign policy and national security tool. As a Permanent Member of the UN Security Council, the UK plays a central role in negotiating global sanctions to counter threats to international peace and security. Like all other UN Member States, the UK is obliged under international law to implement UN sanctions.
With limited exceptions, our current legal powers to implement sanctions flow from the European Communities Act 1972. When the UK leaves the European Union, these powers will need to be replaced. It is not possible to achieve this through the Great Repeal Bill, as preserving or freezing sanctions would not provide the powers necessary to update sanctions in response to fast moving events.
This consultation is about the legal powers we need to maintain our current sanctions capability. It is not about the policy goals themselves or how we will align UK sanctions in future with those imposed by the EU or other international partners. However, we recognise that sanctions require broad application to be effective and will continue to work with allies and partners to this end.
FCO Minister Sir Alan Duncan said:
The Government's over-arching goal is to ensure we have in place the legal powers needed to continue to implement sanctions regimes effectively, in support of our wider national security and foreign policy agenda.

The UK plays a leading global role in using sanctions to reduce threats to international peace and security and we will continue to do so when we leave the European Union.
The public consultation on the design of new legal powers will last nine weeks and will be supplemented by direct engagement with stakeholders.
Note to editors
The full text of the White Paper can be found here.
Further information
Published 21 April 2017