Launch of new single government website
The Government Digital Service formally launches GOV.UK (beta) today, 29 February 2012, the first step towards a new single domain that will bring all government services and information together in one place.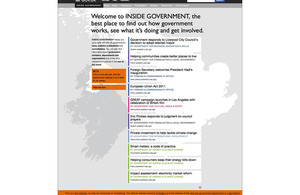 The beta website includes a new 'INSIDE GOVERNMENT' section containing trial MOD corporate information.
Over time GOV.UK will eventually replace many of the separate departmental sites run by government organisations.
Nine government departments are taking part in the first phase of GOV.UK's launch: the MOD, the Department for Communities and Local Government, the Department for Business, Innovation and Skills, the Foreign and Commonwealth Office, the Department for International Development, Her Majesty's Revenue and Customs, the Ministry of Justice, the Department of Health, and the Department for Environment, Food and Rural Affairs.
New MOD corporate content has been redeveloped into a framework designed to make government information more accessible and usable.
A concurrent six-week live test will run from 29 February - 11 April, including a review of the new shared publishing system.
Participating departments will keep adding to the site over the six-week trial period at the end of which there will be a pause and an evaluation of feedback received.
During 2012, the MOD website will continue to be the official source of defence-related information until a transition date has been agreed. There will then be a period of time when organisations will run both old and new sites in parallel whilst a final date for closure of the old sites is agreed with the Cabinet Office.
Over time, GOV.UK will eventually replace many of the separate departmental sites run by government organisations, simplifying things for users and saving millions of pounds.
The citizen-facing section of GOV.UK was launched on 31 January 2012 and aims to serve the needs of the mainstream majority better by speeding up and facilitating essential transactions such as registering a birth or renewing car tax.
Its target is to replace both Directgov and Business Link in 2012, reducing costs to the public purse, improving the user's experience, and making all government information easier to find.
The government part of the site is about meeting the needs of the engaged minority who, like the MOD audience, visit frequently and are likely to spend longer on the site.
New features and interactive opportunities will make life much easier for those frequent users of government websites, focusing on their needs far more than before.
Links to the new GOV.UK site will be located on the MOD internet and intranet sites for users to find parallel content easily and quickly. More links will be placed as new content is published and available.
Published 29 February 2012
Last updated 13 December 2012
+ show all updates
This news article was converted to a news story