Press release
Launch of British scholarship alumni groups
British Ambassador announces the launching of the Chevening Alumni Lebanon and the John Smith Memorial Trust Alumni Lebanon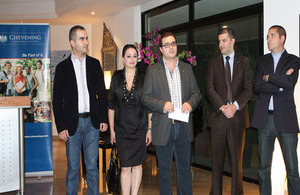 British Ambassador to Lebanon Tom Fletcher announced the launching of the new Chevening Alumni Association Lebanon and the John Smith Memorial Trust (JSMT) Alumni Lebanon, at a reception hosted at his residence in Yarze.
Embassy friends, partners and contacts across the social, political, academic and business spectrums as well as Chevening Alumni board members, JSMT board members, former Chevening scholars and fellows, attended.
In his welcoming address Ambassador Fletcher said: "Success in the 21st century depends on mobilising networks and human capital. The launch of the alumni association does both. We're proud to be associated with this talented group, who have such potential to promote positive change in Lebanon".
Chevening Alumni Board Member, Me. Joe Karam said: 'we hope that the Chevening Alumni Lebanon will be the platform to bring together future leaders and decision makers working to build Lebanon's future.'
JSMT representative Melkar El Khoury introduced the JSMT programme and said: 'JSMT is looking for committed and motivated professionals aspiring to lead change in their communities while championing the rule of law.'
Notes to editors:
The Chevening Scholarship programme offers one-year funded Masters programmes to future leaders from across the world. This year marks the 30th anniversary of the Chevening programme. In Lebanon there are over 90 scholars and fellows who have benefited from the programme. For more information, visit www.chevening.org/Lebanon. Applications are open until 8 November.
The John Smith Memorial Trust(JSMT) was formed in 1996. JSMT awards are yearly fellowships in the field of Rule of Law. Applications for 2014 programme are open until 6 December, 2013.
Published 4 November 2013