Latest quarterly statistics on Local Authority collected waste for England
Provisional quarterly estimates for Quarter 1 2012/13 of local authority collected waste generation and management for England and the regions from April to June 2012.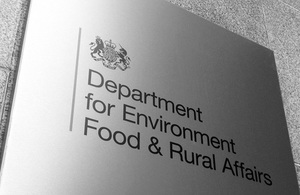 These statistics are based on data submitted by all local authorities in England to WasteDataFlow on the waste they collect and manage.  Final Estimates for 2012/13 will be published in November 2013. Full details and links here: http://bit.ly/14FN6Zq
Headline results:
43 per cent of household waste was recycled (including composted and reused), in the 12 months to the end of June 2012. This is similar to the 2011/12 financial year, but an increase, compared to 2007/8.
Household waste generation was almost 6 million tonnes in Quarter 1 2012/13 (April to June 2012), a reduction of 2 per cent in the same quarter in 2011/12. This amounts to 113kg per person. The combined amount for the 12 months to end of June 2012 was 428kg per person.
 Local Authorities recycled, composted or reused 45 percent of the waste they collected in Quarter 1 2012/13. This amounted to more than was landfilled. The use of incineration with energy recovery increased by over 20 per cent to 1.3 million tonnes, which reflects the annual trends in increased incineration seen in the last couple of years.
Published 7 February 2013