News story
Latest news from our partners
From electric cars, stars of the UK design industry and research into healthy diets, find out more about the work of BIS partners.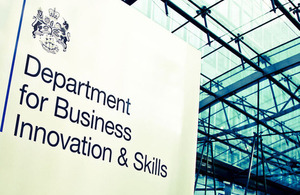 From punk fashion to deer crossing: UK design recognised
The Design Council announced the nominees for this year's Prince Philip Designers Prize, which celebrates the breadth and versatility of Britain's design talents. Nominees include Fashion icon Dame Vivienne Westwood, Formula One designer Adrian Newey and signage creator Margaret Calvert.
Scientists probe links between diet and health
A new partnership between three research councils (the Biotechnology and Biological Sciences Research Council, the Engineering and Physical Sciences Research Council, and the Medical Research Council) and 13 food and drink companies will aim to uncover the links between diet and health. The projects will tackle issues including cutting saturated fat in milk, fortification of food with supplements, and healthier white bread.
Investment to spark new electric car start-up
A new Sheffield start-up, named after a 19th century scientist, is ready to spark into life after becoming one of the first companies to receive investment from Finance Yorkshire and Yorkshire Forward. Faradion has secured the funding to help bring down the cost of high-capacity batteries, which will make electric vehicles more practical.
Young waiter serves up success
WorldSkills UK alumni Katie Watson was crowned Young Waiter of the Year at the Academy of Culinary Arts Annual Awards of Excellence. As well as her trophy, Katie will spend a day's work experience at Heston Blumenthal's Fat Duck restaurant.
Acas helps managers relieve stress
Acas has released a new guide to help employers prevent and manage stress in the workplace. National Director for Health and Work, Dame Carol Black, said: "It is in employers' interests to manage stress at work proactively and not just assume all staff are coping, particularly in a tough economic environment where many employees are under pressure to do more with less."
Links
Published 21 September 2010