World news story
Last visit to Salt Cay
Governor Ric Todd will make his last visit to Salt Cay tomorrow, Friday, 14 June 2013, before leaving for a new diplomatic position.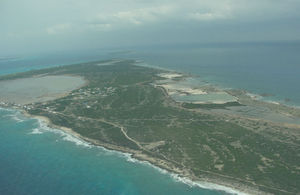 Todd will be accompanied by the District Commissioner for South Caicos and Salt Cay Yvette Cox and be met on arrival by local officials Noyal Hamilton and Aquina Martin.
The Governor has been committed to visiting each of the TCI's six inhabited family islands once every three months during his time in the Islands. He has also visited uninhabited East Caicos too.
On this one day trip to Salt Cay, he will:
Present a cheque for $2,500.00 to the Salt Cay Community Centre to help them to buy new tables and chairs for its meetings and gatherings, to fix its guttering, pipes and cistern, and to the repaint the outside of the building. These funds are provided through the Governor by the UK Government.

Inspect the Reverse Osmosis plant on the island to see for himself the improvements in water quality made since the new cistern membranes were installed, and the plant and equipment sent over from Grand Turk ahead of Salt Cay receiving its own new plant this financial year.

Visit the staff and students of the Mary Robinson Primary School, where the students have prepared a special farewell presentation for the Governor, before heading on to see the Salt Cay clinic.
During his visit he will have lunch at the Coral Reef restaurant.
I have always tried to demonstrate my support for some of TCI's smaller and slightly more remote communities during my time here," said Governor Todd. "I am pleased that others too have taken p this good habit of going out and meeting the people that they represent and am delighted that Deputy Governor, the Hon Anya Williams is also soon to embark of an Island tour with her six Permanent Secretaries to better engage with the public servants that are employed in our less densely populated islands.
Salt Cay is a very special place, unique in the world, and I very much cherish the time that I have been privileged enough to spend there.
ENDS
Note to editors:
In addition to the Salt Cay Community Centre, other beneficiaries of the Governor's community fund are:
· South Caicos – Street Sign Project – $2,500
· North Caicos /Middle Caicos: Charles Hubert James Primary School – $1,666.67; Adelaide Oemler Primary School - $1,666.67; Doris Robinson Primary School - $1,666.67.
Published 13 June 2013