Press release
Last chance to view plans for M6 junction upgrade in Cheshire
There's a last chance to see the options for major improvements at junction 19 of the M6 in Cheshire on Saturday.
This news article was withdrawn on
This document is no longer current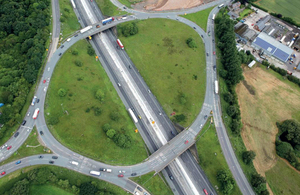 Drivers, business owners and residents are being invited to visit the Highways England public information exhibition on Saturday 17 September between 10am and 5pm at The Curzon Cinema, Toft Road, Knutsford, before the consultation closes on Friday 23 September.
The busy junction – on a key route to Manchester and the airport – needs upgrading to meet the expected increase in traffic following the completion of the M6 smart motorway and A556 link road projects, which are both currently underway.
The junction improvements are due to start by spring 2020 and will be carried out by contractors for Highways England, improving access to the M56 and providing better and more reliable journeys for drivers.
The scheme is part of the government's £15 billion roads investment strategy, which is transforming the road network and improving connections between cities.
More information on the scheme and a feedback form are available on the M6 project page.
During the 5 week consultation, which is due to conclude on Friday 23 September, members of the public are being asked to comment on two options of improvements for junction 19.
Option A includes creating a new road on a bridge over the junction, providing a better link between the M6 and A556. Option B includes extra lanes on the existing roundabout to increase capacity, and new traffic lights.
Highways England Project Manager Irene Ofei said:
This scheme builds on our investment in the area, with the M6 smart motorway and the A556 improvement scheme both currently underway.

The changes will improve safety and journey times through the junction for all road users and will provide better links for residents and businesses to key roads in the area.

We will also improve access for walkers, cyclists and horse riders.
Work is currently taking place on a new A556 link road between the M56 and the M6, bypassing the existing A556. A new smart motorway is also being created between junctions 16 and 19 of the M6, where the hard shoulder is being converted to an extra lane and variable speed limits will be used on overhead electronic signs to keep traffic flowing.
Following the public consultation for the junction 19 improvements, a finalised plan will be developed and announced. At this stage, there will be another opportunity for the public to make comments about how the work will be carried out.
Published 14 September 2016