Press release
Largest fall in unemployment since records began
Unemployment has seen the largest annual fall since records began over 40 years ago.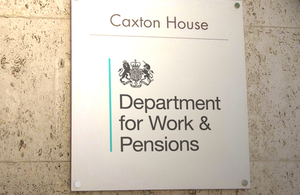 Unemployment has seen the largest annual fall since records began over 40 years ago. The number of unemployed people is now below 2 million for the first time since 2008, figures published today by the Office for National Statistics (ONS) show.
In the largest annual fall since the 1970s – when Donny Osmond topped the charts with Puppy Love – there are now over half a million fewer unemployed people than there were a year ago. The unemployment rate has also fallen again – to 6% – a new 6-year low. This compares to an unemployment rate of 7.7% just a year ago. Over the last year every single region and nation in the UK has seen a fall in unemployment.
There are now a record 30.76 million people in work. Compared to 2010 there are over 2 million more people in private sector jobs – more than the total number of people currently unemployed – showing that the government's long-term economic plan to create jobs by backing businesses is working.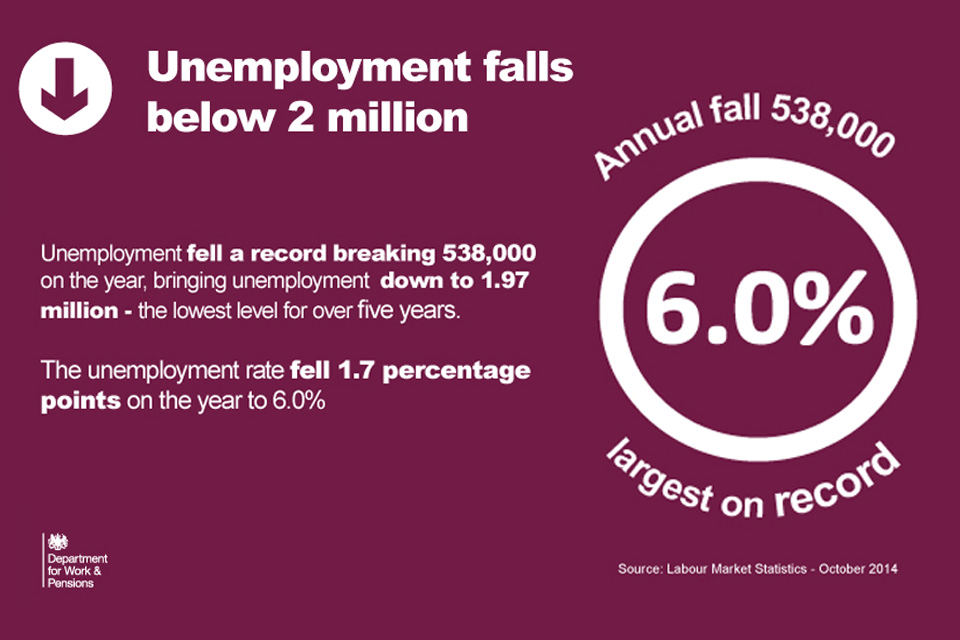 Employment Minister Esther McVey said:
All of our reforms are focussed on helping people into work and today's record figures show that the government's long-term economic plan to help businesses create jobs and get people working again is proving successful.

Behind the record figures there are countless individual stories of people turning their lives around, of families who are now feeling more secure with a regular wage, and of young people escaping unemployment and building a career.

We know there is always more to do, which is why it is vital to stick to delivering a plan for full employment that's creating growth and jobs.
Schemes like the Government's Work Programme have contributed to the largest drop in long-term unemployment since 1998 – falling by 194,000 on the year. The number of people on Jobseeker's Allowance (JSA) fell for the 23rd month in a row, with over 540,000 fewer people who are signing-on than in 2010.
Young People
Young people (18-24) saw the largest annual fall in unemployment since records began – falling by over a quarter of a million since last year. Excluding those in full-time education, there are now 468,000 unemployed young people. This is down by nearly a third compared to last year and lower than just before the recession.
The number of young people claiming Jobseeker's Allowance fell again, for the 34th month in a row. There are now fewer young JSA claimants than at any time in two generations – having dropped by 123,000 in the past year.
Women
There are record numbers of women in work with the UK having seen the fastest growth in the number of women in work in the last year out of all G7 economies. Of those women working part-time, nearly 90% have chosen to work part-time because it suits them. The proportion of women working part-time who want full-time work (12.6%) is falling, down 41,000 over the last year.
International Comparisons
Over the last year the UK has seen the largest growth in employment and the largest fall in unemployment in the G7.
Vacancies
Job vacancies rose again, up 130,000 over the past year bringing the number of vacancies in the UK economy to 674,000.
Wages
Wages excluding bonuses were up 0.9% on the year, with private sector wages rising faster - at 1.2% – than the public sector. The financial services sector saw bonuses fall by 5%.
More information
Read the new official statistics published today showing the latest number of claims to Universal Credit.
Contact Press Office
Media enquiries for this press release – 020 3267 5122
Press Office
Caxton House
Tothill Street
London
SW1H 9NA
London Press Office (national media and London area enquiries only – not questions about personal claims) 020 3267 5144
Out-of-hours (journalists only) 076 59 108 883
England and Wales (local media enquiries) 029 20 586 then 097 or 098 or 099
Scotland (local media enquiries) 0131 310 1122
Follow DWP on:
Published 15 October 2014