World news story
Large UK presence at Pacific 2013
Strong British flavour continues at International Fleet Review with large trade contingent at Pacific.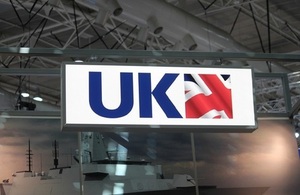 The UK has sent a high-powered delegation this year to Pacific 2013, the international maritime exhibition, showing how highly it values Australia as a strategic defence, security and trade partner.
The UK presence is being led by Minister for International Security Strategy, Dr Andrew Murrison. Also in attendance were the Head of the Royal Navy, First Sea Lord, Admiral Sir George Zamballas and David Hatcher, Regional Director Australasia and Asia, UK Trade & Investment Defence and Security Organisation. 19 British companies are exhibiting at Pacific, forming the second largest foreign contingent at the show after the USA.
The defence relationship between the UK and Australia is not only very important from an international security perspective, it's also a large and growing part of the trade relationship between the two countries. UK defence exports to Australia in 2012 were £64 million and Australia was the second biggest importer of UK defence products in the Asia Pacific Region from 2003 – 2012.
Among the British companies showing its wares at Pacific is MBDA, a world leader in missiles and missile systems. Mike Taylor, Marketing Executive at MBDA said the company was proud to be in Australia sharing their new products, including a UK-built system, the Common Anti-Air Modular Missile (CAMM).
"It's a next generation air defence missile designed for land, sea and air environments and we've received a lot of interest in Australia so far," said Taylor.
Global defence, security and aerospace company BAE Systems has brought UK Maritime – Naval Ships experts to Sydney to showcase their Global Combat Ships.
George Porteous, a BAE Systems (Maritime – Naval Ships) representative, said particular focus was being made on the UK's versatile Type 26 Combat Ship.
"We've had some meetings and discussions with Australia about the Sea 5000 project to find out whether it's possible to have the UK's global combat ship included as an option or solution," said Porteous.
Other UK companies exhibiting include SEA, the provider of the UK Submarine fleet's communications system and MacTaggart Scott, a Scottish engineering firm specialising in naval mechanical handling equipment.
Pacific 2013 runs until Wednesday 9 October at the Sydney Convention and Exhibition Centre.
Published 8 October 2013