World news story
Lao Embassy officially reopens in the UK
This was published under the 2010 to 2015 Conservative and Liberal Democrat coalition government
The Embassy of the Lao PDR reopens in London after a diplomatic absence of almost 30 years.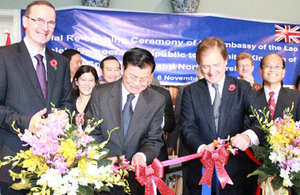 After a diplomatic absence from the UK of nearly three decades, bilateral ties between the UK and Laos were further strengthened this week as the Deputy Prime Minister and Foreign Minister of Lao PDR, Dr Thongloun Sisoulith formally reopened the Embassy of the Lao PDR in London, which has been closed since 1985.
The opening ceremony took place on Thursday 6 November, followed by a bilateral meeting with Minister of State for the UK's Foreign and Commonwealth Office Hugo Swire and the signing of a bilateral agreement to hold bi-annual political consultations to strengthen policy co-operation and exchange between the two countries. Celebrations concluded with a reception hosted by Lao Ambassador to the United Kingdom HE Sayakane Sisouvong. Guests of honour included the Minister of State Hugo Swire, representatives of British companies, education institutions and others with an interest in Laos, as well as British Ambassador to Laos, Philip Malone.
Speaking at the event Ambassador Philip Malone said:
I would like to take this opportunity to welcome Laos to the UK on what is an historic occasion in UK-Laos relations. The re-opening of your Embassy in London after nearly 30 years absence is a great event and one that I am proud has fallen in my tenure as British Ambassador to Laos.

I want to extend my congratulations, a warm welcome to you as the newest member of the diplomatic community in London and a commitment to an ever more fruitful partnership with you and your country in years to come.
This week also marks exactly two years since the reopening of a British Embassy in Vientiane in November 2012. The reopening of the Embassy of the Lao PDR in London marks another significant milestone in UK-Lao relations and is an important event for Laos, particularly as the country prepares to join the ASEAN Economic Community (AEC) next year and assume the Chairmanship of ASEAN for the second time in 2016. The London Embassy means Lao PDR now has a total of 26 diplomatic missions overseas in 25 countries.
The priorities of the Embassies in both countries are to strengthen bilateral trade and investment links, people to people contacts and co-operation on global issues of concern. UK exports to Laos have increased by about 20% since the reopening of the British Embassy in Vientiane in late 2012. Co-operation has expanded in education, with two British universities signing co-operation agreements with the National University of Laos (NUOL) and a fourfold increase in Chevening scholarships to citizens of Lao PDR this year. The UK government also recently announced renewed funding for the clearance of Unexploded Ordnance (UXO) in Lao PDR of over £2.9 million. Over 43,000 British tourists visit Laos every year – one of the largest non-Asian national groups.
The reopening of the Embassy of Lao PDR means that all ten ASEAN countries are now represented in London. The UK is one of the few European countries represented in all ten ASEAN nations.
Document information
Published: 7 November 2014