Press release
Lane closure following M180 bridge strike
Drivers are advised of a lane one closure on the westbound M180 between junction 4 and 3 following a significant bridge strike which caused the closure of the motorway on Tuesday afternoon (19 August).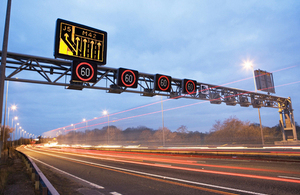 A low loader carrying an item of plant machinery with large forks struck and damaged the edge beam of Moor Bridge. The impact was of such a great force that it ripped part of the plant machinery from the low loader and flipped the forks over which then gouged the road surface in lane 1.
Following an inspection by Highways Agency structural experts, the damaged edge beam is beyond repair and this section of the bridge will require partial demolition and rebuilding.
A lane one closure has been put in place for the safety of road users and to protect the area from future bridge strikes. In addition, cones have been placed on top of the bridge to keep traffic away from the damaged beam.
The rest of the bridge is stable although it will be regularly monitored until repairs are completed. The lane closures will remain in place until work to repair the beam is carried out; this is expected to take place later this year.
General enquiries
Members of the public should contact the Highways Agency Information Line on 0300 123 5000.
Media enquiries
Journalists should contact the Highways Agency press office on 0844 693 1448 and use the menu to speak to the most appropriate press officer.
Published 21 August 2014