Press release
Landowners warned: Don't get stung by illegal waste operations
Illegally dumped waste can lead to huge clean-up costs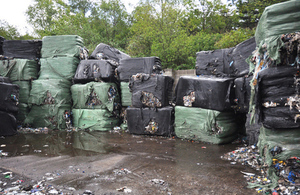 The Environment Agency is warning landowners in Yorkshire to beware of illegal waste operations that may cost them thousands in clean-up costs.
The warning comes after investigating officers at the Environment Agency discovered large-scale tipping of waste in Leeds and Sheffield, at three sites where waste permits are not in place to allow such operations.
In these cases, it appears that a waste operator has negotiated access to the sites by signing leases for their use. They then deposited more than 1,000 tonnes of waste across the three sites, even though no environmental permits have been applied for, and they have since disappeared.
Any person or business who transports, treats, stores or deposits waste without the required environmental permits is breaking the law. And if waste is left illegally on any land, the responsibility for removing it can fall to the landowner or property landlord.
Andy Swettenham, environment management team leader at the Environment Agency, said:
If you own or lease out land for industrial use, it is vital that you know what activities are taking place on it. If your tenant uses or intends to use your land for waste activities, they must possess all of the appropriate legal permits, and the responsibility lies with you to ensure that those waste activities are legal. If you fail to check and illegal waste builds up on your land, then you could be liable for the costs of having it removed and the land restored.

Anyone who believes any illegal waste activities are taking place is urged to report the matter to our incident hotline on 0800 807060 or CrimeStoppers on 0800 555111 so that we can investigate. Illegal waste activities pose a significant threat of harm to the environment and local communities, so it is important that everyone plays their part in stamping out waste crime.
Published 17 July 2015