Press release
Landowner fined for illegal waste wood
A landowner has been ordered to pay over £5,000 for illegal waste wood at his site in Bicester.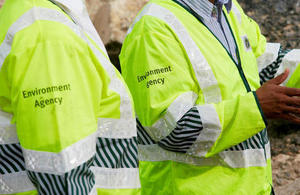 Banbury Magistrates' Court heard (30 June 2015) that Mr Gordon Jones, of The Old Dairy, The Green, Hethe, Bicester had accumulated an extensive amount of waste wood at his 'Field Farm' site – an agricultural holding situated in Bainton Crossroads, Stoke Lyn, Bicester.
Mr Gordon was fined £2,000, ordered to pay costs of £3,000 and £120 victim surcharge.
Reports were received by the Environment Agency of deposit and storage of waste wood back in 2013.
Environment Officers Jack Knight and Steven Cave visited the site and recorded the storage of a very large deposit of waste wood, pallets and shredded wood on the south side of the land.
A search for waste exemptions on the land by Officer Cave returned a number of exemptions for agricultural wastes under Mr Gordon Jones' name. However, these exemptions from the requirement to have an environmental permit were not relevant to Mr. Jones' deposit of waste wood.
Environment Officer, Jack Knight said:
Waste crime such as this puts the environment at risk from fire. We offered advice to Mr. Jones on a number of occasions with regards to him removing the waste wood during our site visits.
Anyone who has information on illegal waste can contact us on 0800 807060 or call crime stoppers anonymously.
Notes:
This case relates to the failure by a landowner to comply with a statutory notice to remove waste wood from land at Field Farm, Bainton Crossroads, Stoke Lyne, Bicester, OX27 8RL by 2nd June 2014 and served under S 59 EPA 1991.
Published 1 July 2015