Press release
Landmark day for justice: television broadcasting in courts goes live
Live television broadcasting from the Court of Appeal can begin from today, Courts Minister Shailesh Vara has announced.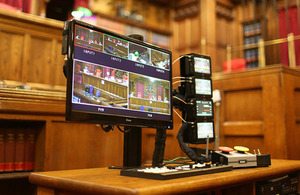 This significant change will allow for unprecedented access to the country's judicial process and will allow television broadcasters to film the legal arguments and the final judgment in criminal and civil cases.
Courts Minister Shailesh Vara said:
This is a landmark moment that will give the public the opportunity to see and hear the decisions of judges in their own words. It is another significant step towards achieving our aim of having an open and transparent justice system.

We are clear that justice must be seen to be done and people will now have the opportunity to see that process with their own eyes. It will also help further the public's understanding of the often complex process of criminal and civil proceedings.

While this marks an opening up of the court process we will always balance the need to make the justice system more accessible with the needs of victims and witnesses. That is why we will ensure that throughout the court process, they will not be filmed.
The move comes after legislation was agreed by Parliament.
Advocates' arguments, and the judges' summing up, decision and (in criminal cases) sentencing remarks may be filmed.
The Government intends to commence consideration of the filming of sentencing remarks in the crown court in the future. However, victims, witnesses, offenders and jurors will continue to be protected, and will not be part of broadcasts.
Proceedings in the country's highest court, The Supreme Court, are already streamed live on the internet.
Notes to editors
The Crime and Courts Act 2013 contains an order making power that allows the Lord Chancellor, in concurrence with the Lord Chief Justice, to make an order setting out the conditions under which the prohibitions on filming and broadcasting from court will be lifted. The ban on filming and recording in court is contained within section 41 of the Criminal Justice Act 1925 and section 9 of the Contempt of Court Act 1981.
The costs will be covered by media organisations and it will be for the media organisations to determine which cases are broadcast, subject to necessary judicial checks (including whether it would not be in the interests of justice to broadcast footage or would cause undue prejudice to any party).
Five courtrooms at the Royal Courts of Justice have been wired to allow broadcasting to take place. The broadcasters – BBC, Sky, ITV and Press Association – will be able to film proceedings from only one court room on any given day. They will agree which courtroom and will inform the judiciary the day before. They will be able to show the footage for the purpose of news reporting only. All costs associated with filming within the Court of Appeal have been met by the broadcasters involved.
Advocates' arguments, and the judges' summing up, decision and (in criminal cases) sentencing remarks may be filmed.
Victims, witnesses and defendants will not be filmed.
Follow us on twitter @MoJGovUK and @MoJPress please use #camerasincourt
Published 31 October 2013