Press release
Lady Barbara Judge reappointed as Chair of the Pension Protection Fund
Lady Barbara Judge reappointed as Chair of the Pension Protection Fund starting 1 July 2013.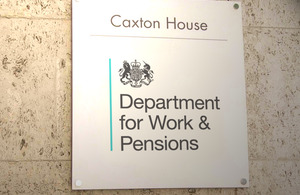 After 3 successful years in post, Lady Barbara Judge CBE has been reappointed as the Chair of the Pension Protection Fund (PPF).
Minister for Pensions Steve Webb said:
I am delighted to announce that Lady Barbara Judge will be continuing in her role as Chair of the Pension Protection Fund for a further 3 years. Her experienced leadership and enthusiasm are hugely valued, and key to the future success of this important organisation.
More information
Reappointment of Lady Barbara Judge, CBE, has been carried out in accordance with the Office of the Commissioner for Public Appointments (OCPA) code of practice.
Lady Barbara Judge's current contract expires on 30 June 2013. Her new 3-year contract will start from 1 July 2013. Her remuneration remains at £60,000 a year for two days a week.
Lady Judge has held senior executive and advisory appointments in law, finance, industry, public service, the arts and academic life in the UK, US and Asia. Lady Judge was recently voted amongst the 100 most powerful women in Britain by Radio 4 Woman's Hour.
Press Office
Caxton House
Tothill Street
London
SW1H 9NA
London Press Office (national media and London area enquiries only – not questions about personal claims) 020 3267 5144
Out-of-hours (journalists only) 076 59 108 883
England and Wales (local media enquiries) 029 20 586 then 097 or 098 or 099
Scotland (local media enquiries) 0131 310 1122
Media enquiries for this press release 0203 267 5116
Follow us on Twitter www.twitter.com/dwppressoffice
Published 31 May 2013