World news story
Korea celebrates British designers and artists at Gwangju Biennale
As Korea looks to boost its creative economy it's providing considerable opportunities for UK designers, fashion companies, and artists.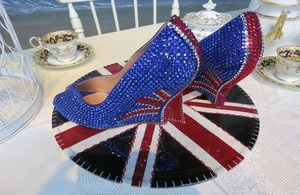 Creativity is at the heart of Korea's economic plan for the future and UK firms are among the best placed to win trade partnerships and take advantage of the growing opportunities in this sector.
Gwangiu Biennale
The best of UK design is on show currently in Korea at the Gwangju Biennale. The Biennale attracts 350 designers from over 20 countries, and is expected to welcome over 600,000 guests during its eight- week duration. British design is currently some of the most respected and sought after in Korea, and the appetite for the 'Union Jack' is huge.
UK companies are well-represented at the Biennale. 14 companies will be displaying their goods and products at the UKTI 'GREAT' display, curated by Lloyd Choi, the director of renowned furniture makers Jackie Choi London. Companies represented range from automobiles (Mini), to clothes (Barbour), to electrical goods (Roberts Radio). All share unique British design styles, and have all taken the opportunity to enter the Korean market.
UK Trade & Investment (UKTI) has produced a Union Jack brochure to be handed out at the event, which showcases British creativity. The brochure contains full information on the participating UK brands and designers.
UK creative sector
The UK has one of the largest creative industries in the world:
estimated to be worth £36 billion a year

industry generates £70,000 every minute for the UK economy

employs 1.5 million people

boasts some of the world's best arts colleges such as the University of the Arts London and the Glasgow School of Art
GREAT Week of creativity
For those looking to capitalise on Korea's appetite for British design, UKTI Korea will be hosting a GREAT Week of creativity in March 2014. The week will have trade missions on:
design and creative industries
fashion and clothing
food and drink
For more information on the GREAT Weeks - including how to take part - look at the GREAT Weeks website.
GREAT Week webinar
UKTI South Korea will be running a GREAT Week webinar in November. To register your interest in either the webinar or the trade mission contact :
Business opportunities on UKTI website
UKTI staff in British Embassies, High Commissions and Consulates are always looking for opportunities for UK businesses.
Register on the UKTI website and set up alerts to receive an email with the latest opportunities. You can set your alert to monitor by your sector of interest or by market and then respond to those alerts. Your responses will go directly to the UKTI staff member who posted the opportunity.
Current opportunities:
Published 16 September 2013