Knives are out at Military's biggest food fight
Chefs and caterers from all three Services have been battling it out in the heat of the kitchen this week at Exercise Joint Caterer.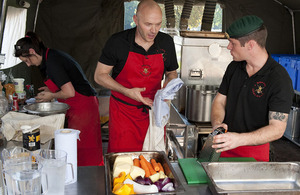 Taking place at Sandown Park Racecourse in Surrey, Exercise Joint Caterer (formerly the Combined Services Culinary Challenge) is an annual three-day event where military chefs from across the three Services take part in a series of competitions designed to showcase the professionalism, skills and expertise of catering staff across the forces and highlights the importance of continual professional training and development.
Each day showcases a separate Service and today the temperatures rose as three teams of Army chefs challenged the BBC's Simon Rimmer to create a number of dishes suitable for a shura - a meeting of Afghan community leaders.
Simon, presenter and chef on BBC2's 'Something for the Weekend', was challenged to cook and serve 20 portions of finger foods as well as two types of fresh bread using only ingredients traditionally found in Afghanistan or in military ration packs.
Using a selection of fresh and dried produce such as polenta, French spinach, pomegranates, powdered milk and eggs, the teams produced mouth-watering dishes such as a pear and polenta cake, chicken tagine and baked beef with eggs.
Each team was also expected to demonstrate traditional butchery skills by preparing an Afghan staple - goat.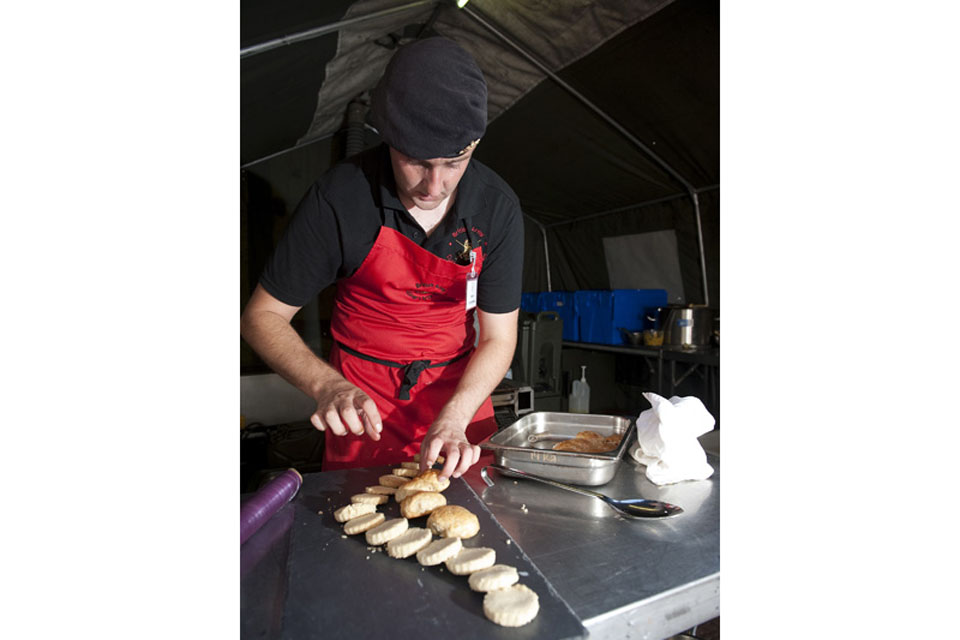 Group Captain Andy Killey, who is in charge of delivering food to the front line, said:
Food plays a huge part in life on the front line and is not only used to fuel our troops but also as a tool to engage socially with others.
Our troops regularly attend local community meetings, or shuras, to share and gather intelligence, and so it is important that they are able to observe the tradition of bringing and sharing local dishes so that they are able to further engage with our Afghan allies.
Speaking at the event Simon Rimmer said:
I have been thoroughly impressed by the skill, creativity and dedication demonstrated by these chefs today.
They have had to learn how to create and cook local traditional dishes and master the traditional methods of butchery and baking which is no mean feat given the challenging environment that these chefs work in.
Fellow competitor, Corporal Tony Meadows, who serves with 215 Signal Squadron based in Tidworth, said:
I've been to Afghanistan as a chef and it is so important that we maintain the skills to make sure that our boys and girls are given interesting and nutritious meals. Today's competition has been a challenge but it's been great.
Published 29 September 2011