Press release
Knife-wielding mugger has sentence increased
The Court of Appeal today imposed a 3 year licence extension period against the youth.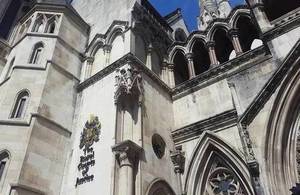 A youth who attacked a woman outside her home has today had his sentence increased after it was referred to the Court of Appeal by the Solicitor General, Robert Buckland QC MP, for being too low.
The 15 year old youth approached the lone victim outside her Sheffield home, putting a blade to her throat and demanding her belongings. The victim feared for her life and attempted to escape, but the youth pursued her and stabbed her 5 times, one of which pierced her heart. The offence has had a significant, life-long impact on the victim.
The youth was sentenced at Sheffield Crown Court in August, where he was given a total of 5 years imprisonment. Today, after the Solicitor General's referral, the Court of Appeal added a 3 year licence extension period to his sentence, making it equivalent to 8 years imprisonment.
Commenting on the sentence increase, the Solicitor General said:
"This was an unprovoked attack using a weapon, which has left a long-term physical and psychological impact on the victim. I hope that the Court of Appeal's decision today can bring her some comfort."
Published 16 October 2018