Killer disease vaccines to reach 37 more countries
Vaccines to beat the two leading killers of children are being rolled out across Africa and beyond with the help of UK aid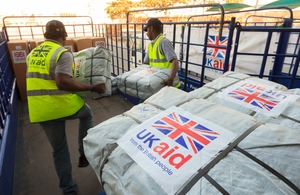 Vaccines to beat life-threatening diseases - including severe diarrhoea and pneumonia, the two leading killers of children - will reach 37 more countries with the help of UK aid.
The international health partnership GAVI Alliance - backed by the British Government - will deliver the life-saving vaccines across Africa, Asia and beyond.
The vaccines will target major childhood diseases around the world including:
Rotavirus is the leading cause of severe diarrhoea in children under five years of age, killing more than half a million children each year worldwide and causing illness in several million more. Nearly 50% of all rotavirus deaths occur in Africa, where access to treatment for severe rotavirus diarrhoea is limited or unavailable.
Pneumococcal disease causes pneumonia, meningitis and sepsis and also takes the lives of more than half a million children each year worldwide, the vast majority of them in Africa and Asia.
This latest roll out of vaccines is part of a wider effort to immunise more than 50 million children against rotavirus and 90 million against pneumococcal disease in the world's poorest countries by 2015.
International Development Secretary Andrew Mitchell said:
Thanks to British support GAVI is in a very strong position to vaccinate millions of children and save lives. We will be watching carefully and enthusiastically for strong results and real effectiveness as they pursue this vital agenda.
GAVI Chief Executive Officer Dr Seth Berkley said:
Thanks to our donors and partners, the GAVI Alliance is now delivering on its promise to protect more children across the developing world against rotavirus, pneumococcal disease and other life-threatening yet preventable diseases.

The death toll of rotavirus and pneumococcal infections in Africa is devastating, and this is where these vaccines will make the most significant impact, not only in lives saved, but also in terms of healthy lives lived.
Earlier this year, the British Government helped spearhead a global push to fund the work of GAVI Alliance and save the lives of four million children. Prime Minister David Cameron pledged the UK's support for the vaccination drive at the global summit in London. Through its contribution to the GAVI partnership, Britain will help to vaccinate more than 80 million children in the developing world.
Published 28 September 2011