News story
Keyboard app developer Swiftkey bought by Microsoft
A language technology business that began life with the help of an Innovate UK grant has been acquired by Microsoft in a $250 million deal.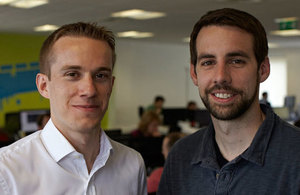 A business started by two young friends with the support of a £15,000 Innovate UK grant in 2008 is to be acquired by Microsoft in a deal reported to be worth $250 million.
SwiftKey is best known for the predictive keyboard that can now be found on millions of smartphones and tablets and for being behind the computer software on Professor Stephen Hawking's new communication system.
The business was founded by Cambridge graduates Jon Reynolds and Dr Ben Medlock. They won a £15,000 Innovate UK grant to test out their idea for an app that would transform the way people used keyboards on smart devices. A second £50,000 innovate UK award helped them to prototype it.
The Swiftkey app was downloaded by 100,000 people in the first week of its launch in 2010. Today, it is installed on more than 300 million devices.
SwiftKey and Microsoft are perfect match
In a blog post on their website today Jon and Ben said:
Microsoft's mission is to empower every person and every organisation on the planet to achieve more. Our mission is to enhance interaction between people and technology. We think these are a perfect match, and we believe joining Microsoft is the right next stage in our journey.
Eight years ago we started out as two friends with a shared belief that there had to be a better way of typing on smartphones. We've come a long way since then; today hundreds of millions of people around the world, and many of the leading mobile manufacturers, rely on our language prediction technology. Our users have saved an estimated 10 trillion keystrokes across 100 different languages, which adds up to over 100,000 years of reclaimed typing time.
The Financial Times reports that Jon and Ben are expected to make upwards of $30 million each from the Microsoft buyout.
In a blog post on the official Microsoft site, executive vice-president technology and research Harry Shurn confirmed that Microsoft had agreed to acquire Swiftkey.
He said:
We love SwiftKey's technology and we love the team that Jon and Ben have formed. That's why today I'm excited to welcome the company's employees to Microsoft. We believe that together we can achieve orders of magnitude greater scale than either of us could have achieved independently.
Published 3 February 2016