Press release
Kent motorway junction upgrade will include new flyover
Major improvements planned for junction 5 on the M2 near Sittingbourne in Kent will now include a new flyover, Highways England announced on 30 May 2018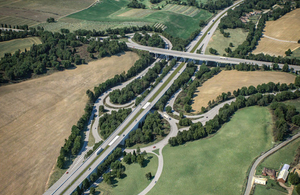 The new flyover will create an uninterrupted link for drivers staying on the A249 and will free up extra space on the Stockbury roundabout. Its addition to the project reflects feedback received during a public consultation last autumn.
Steve Hoesli, Programme Leader Highways England, said:
The Stockbury roundabout junction is a vital interchange between two of the county's busiest roads. These improvements will simplify journeys for people travelling to and from Sittingbourne, the Isle of Sheppey, port of Sheerness and Maidstone, which is great news for anyone living, working or travelling in the area.

Around 2,000 people took part in the consultation; it was clear from people's feedback that these improvements are desperately needed, but also that just upgrading the roundabout would not be enough. Today's announcement takes that feedback on board, and the A249 flyover will provide additional benefits for anyone using the junction. Excellent infrastructure is vital to a successful economy, and the investments we are making in Kent will deliver massive benefits for people and businesses across the region.
As well as the new flyover providing an uninterrupted flow for drivers on the A249, there will be two new dedicated single left turn filter lanes for traffic travelling between the A249 and the M2. The existing slip road leading to and from the M2 to the Stockbury Roundabout will also be improved. The roundabout will be freed up for drivers making other turns at the junction, and for local traffic. Better and safer links will be created to and from the roundabout. The upgrade will also provide better facilities for cyclists, pedestrians and horse riders in the vicinity of the junction.
The preferred route published today is known as (Option 4H1) and increases the safety benefits over the original proposal presented at consultation, Option 12A.
Funding for the scheme comes from the Department for Transport's £15bn Roads Investment Strategy, announced in 2014, together with a £2.5 million contribution from Kent County Council and their partners.
The consultation report has been published on the Highways England website and the preferred route announcement brochure has also been published and is available on the consultation page and at a variety of locations like council offices and libraries in the area.
There will be further opportunities to comment on the preferred route announced today, and there is likely to be a series of public information events in late 2018 or early 2019. Subject to statutory processed, construction work on the upgrade could start as early as spring 2020.
Anyone interested in the scheme can sign up to receive updates via the project page on the Highways England website.
General enquiries
Members of the public should contact the Highways England customer contact centre on 0300 123 5000.
Media enquiries
Journalists should contact the Highways England press office on 0844 693 1448 and use the menu to speak to the most appropriate press officer.
Published 31 May 2018