Press release
Kent garage owner guilty of faking MOT tests
Garage owner pleads guilty to issuing fraudulent MOT certificates to car owners following a VOSA investigation.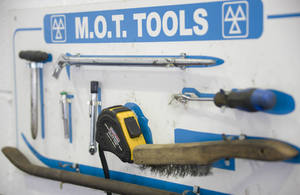 A garage owner has pleaded guilty to issuing fraudulent MOT certificates to car owners at Woolwich Crown Court, following an investigation by VOSA.
Fifty-eight-year-old Graham Jones ran Kent Car and Commercial Repairs from Darent Industrial Estate in Erith, Kent.
After he pleaded guilty to all charges, Jones was given a 12-month jail sentence, which was suspended for 2 years, and ordered to pay £2,500 in costs.
VOSA monitors Britain's 20,000 MOT test centres and carried out the investigation which uncovered many serious offences - including issuing 27 fraudulent MOT certificates.
Sophisticated surveillance techniques were used to gather evidence at Mr Jones' MOT garage.
Evidence from the prosecution showed that cars recorded on the MOT computer as having been tested, never actually entered or left the testing bay at the garage.
VOSA Operations Director Alex Fiddes said:
This sentence is the culmination of a thorough and professional investigation by VOSA staff.

It sends a clear message to the small minority in the MOT industry that, if you choose to cheat and defraud the motorist, and put their safety at risk, then the full force of the law will be brought to bear on you.
Notes to editors
VOSA is responsible for:
processing applications for licences to operate lorries and buses and registering bus services
operating and administering testing schemes for all vehicles, including the supervision of the MOT testing scheme
enforcing the law on vehicles to ensure that they comply with legal standards and regulations
enforcing drivers' hours and licensing requirements
supporting Traffic Commissioners to help them make informed decisions on operator licensing, vocational drivers and bus registration requirements
providing training and advice for commercial operators
investigating vehicle accidents, defects and recalls
VOSA media enquiries
You should contact our press office if you have a media query or you're a journalist.
Published 24 August 2011