Kenneth Clarke: UK should be lawyer and adviser to the world
Kenneth Clarke has reaffirmed his commitment to promoting the UK's legal services to a worldwide audience.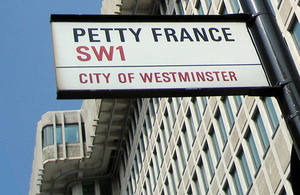 His speech, at an event hosted by TheCityUK, outlined a number of initiatives the Government is undertaking to further the interests of the UK's legal businesses, which provided £23 billion to the UK economy in 2009.
These include:
An Action Plan which outlines how Government will help UK legal services expand into new markets, particularly South East Asia, Brazil, Turkey and India
The provision of infrastructure: the new Rolls Building which opens in December will provide a state of the art home for the Commercial Court and the Technology and Construction Court
Introducing new ways for legal businesses to grow by introducing Alternative Business Structures which will allow solicitors, barristers and other professionals to work together in new ways. This should increase competition, allow non-lawyer investment into the sector, and improve the service available to the consumer.
Mr Clarke said:
'Law as an industry has sometimes felt itself to be overlooked in its treatment by government - certainly relative to financial services. So I want to make it clear that for this Government, the City of London is a legal centre - not just a financial one. 
'The rule of law is one of our greatest exports but there is more that we can do to help UK legal services thrive. 
'I am prepared to wear out much shoe leather promoting the UK as lawyer and adviser to the world, particularly in areas where protectionist regulations remain an impediment.'
He added:
'I intend that the new Alternative Business Structures which come in on October 6th will be of benefit both to the economy and the profession. Time will tell, buy I hope that comparisons with the Big Bang in 1986 do not prove entirely fanciful.'
Another issue the Justice Secretary highlighted was dispute resolution. More and more people from overseas are choosing to make use of UK courts to help resolve issues, while the Government wants to see more people at home choosing mediation before embarking on a lengthy and expensive court process. The measures being introduced to encourage this include automatic referral to mediation in small claims cases, as well as plans to tighten up on referral fees and 'no win, no fee' claims.
You can read Kenneth Clarke's speech
Notes to Editors
Read the full Action Plan for Growth.
For more information contact the Ministry of Justice Press Office on 0203 334 3548.
Published 14 September 2011