Kenneth Clarke heralds new era in UK-India trade relations
A new era of business relations between the UK and India is in the best interests of both countries.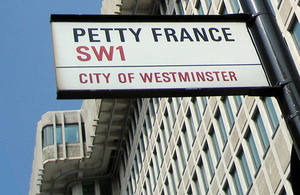 His visit will promote the UK's legal services industry to one of the UK's biggest potential global partners.
Mr Clarke will spend three days in Delhi highlighting the mutual benefits of increasing the levels of legal business between the two countries. In particular, he will give his full backing to work to liberalise India's legal services - the Indian legal market is currently estimated to be worth 4 billion dollars, growing to $6.5 bn in 2016 but if fully liberalised its value to India could be $12.3 bn.
Mr Clarke will also meet prominent Indian businesspeople and lawyers to promote the UK as a centre of excellence for litigation and alternative dispute resolution. Mediation and arbitration are quicker, easier and cheaper ways for businesses to solve disputes and it is estimated that mediation alone could save businesses up to £1.4bn a year.
As he arrived in India, Mr Clarke said:
'The UK and India are among the oldest and most vibrant democracies in the world. We share an unshakeable commitment to prosperity and freedom which we are trying to realise through economic and political reform. The challenge now is to step up this relationship which is critical to Britain and to the world.
'India is an emerging economic powerhouse, and a key player on the international stage. But in my meetings with influential Indian business people this week I will be making the case that restrictions on international law firms and foreign lawyers are holding back inward investment and growth there. Liberalisation is a vital contributor India's future economic success, while an India that is more receptive to international trade would be hugely beneficial to the UK as an exporter.'
The Justice Secretary, who is the UK's International Anti-Corruption Champion, will deliver a lecture at the British High Commission in India, in which he will discuss the recent implementation of the Bribery Act in the UK and how our experience in this field could assist India.
Mr Clarke's visit coincides with the first anniversary of the 'Enhanced Partnership' announced by Prime Ministers David Cameron and Manmohan Singh in September 2010. Since then trade between India and the UK has grown by 20% to £13 billion, with exports increasing 37% - significant steps towards the Government's ambition of doubling UK-India trade by 2015.
Note to editors
For more information contact the Ministry of Justice Press Office on 0203 334 3548.
Published 27 September 2011