World news story
Keep your documents safe
Hurricane season message for foreign nationals resident in the Cayman Islands. Includes Honorary Consul contact details.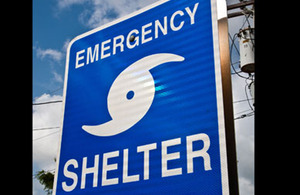 With the hurricane season now upon us, the Governor's Office on behalf of the Consular Directorate of the UK Foreign and Commonwealth Office and the Austrian, Barbadian, Brazilian, Canadian, Filipino, French, German, Honduran, Indian, Jamaican, Spanish, Swiss and United States Honorary Consuls of the Cayman Islands wishes to remind all nationals to ensure that their travel documents are in order.
You should make copies of your key documents including passports, birth certificates, work permits and drivers' licenses, and store them in a safe place separate from the originals. The original documents should be kept with you in waterproof bags or containers during any emergency situation, particularly in the event of an approaching hurricane or tropical storm.
Travelling to the US
For those people who may wish to travel to the US either before, or immediately after a hurricane, it is essential that your documents are in order. It is extremely unlikely that anyone without appropriate documentation will be allowed to enter the United States. Those who do plan to travel to the US should also be aware that the Visa Waiver Programme (VWP) only operates for commercial flights and they should therefore also obtain a US visa if travelling on charter or private flights. Those nationals looking to travel under the VWP should also apply online for Electronic System for Travel Authorisation (ESTA).
British Passport Holders
British passport holders should note that an application for a passport renewal has a minimum 5 week turnaround time. To avoid applicants being without travel documents during the hurricane season only, applicants will not need to send their current passports with the renewal application. However, a photocopy will still need to be sent. The old passport must only be used for emergency travel. This is because the passport issuing system will electronically cancel the old passport when the new one is being processed and applicants risk travelling on an invalid travel document. US Immigration will accept a machine-readable British passport with at least one month's validity. British passport holders should note that passport renewals are now processed by the British Embassy in Washington. Details of this service can be found here.
Honorary Consuls
Nationals of other countries should also give consideration to applying for a new passport if they intend to visit their home country over the summer. The following nationalities are represented in the Cayman Islands:
Austria
Please contact Mr. Martin Richter by email autconsulate@candw.ky or by calling 925 4559 or 926 1520. New Austrian biometric passports will require a visit to an Austrian passport issuing authority in order to record biometric data.
Barbados
Please contact Ms. Juliette Gooding on 925 7264 or Liaison Officer Mr. Wingrove Hunte on 926 8303, emails barbcon2@gmail.com or hunteWO@candw.ky.
Brazil
Please contact Mr. Giorgio Subiotto giorgio.subiotto@ogier.com or call 949 9876 during business hours.
Canada
The Canadian Honorary Consul is Mr. Jeff Boucher. Visit www.pptc.gc.ca or www.jamaica.gc.ca, call the consulate on 949 9400, or e-mail cdncon.cayman@candw.ky. The Consulate of Canada is located at Landmark Square, 1st Floor, 64 Earth Close (off West Bay Road past the Strand), Seven Mile Beach. Open Monday to Thursday from 10am to 1pm. Canadian nationals can register while visiting or living abroad here.
France
Please contact M. Sebastien Guilbard on 949 2118 or by email sguilbard@smu.ky or sguilbard1@hotmail.com.
Germany
Please contact Mrs. Christiane Schuette-McField on 924 3561 or by email schuettemcfield@gmail.com.
Honduras
Please contact Mr. Miguel Molina-Brown by email miguelmbrown@yahoo.com or Miguel.brown@ky.pwc.com or phone 914 8665.
India
Please contact Dr. Krishna Mani by email or phone 945 1565/928 4681.
Jamaica
The Jamaican Honorary Consul is Dr. Joseph Marzouca. Visit http://www.jaconsulatecayman.org/m1a.html or contact Deputy Honorary Consul Ms. Elaine Harris on 949 9526, email Jamaica@candw.ky. Emergency number: 325 6634. The Jamaican Consulate: Dot Com Centre is at 342A Dorcy Drive in the Industrial Park. Emergency travel documents can be issued within 24 hours with proper proof of Jamaican nationality and identification, and the passport renewal time is 2 to 3 weeks.
Philippines
Please e-mail Mr. Arturo Ursua artursua@candw.ky or call 925 8279/949 2716.
Spain
Please contact Mr. Garth Arch spainconsulate@candw.ky or call 949 2400/525 5603.
Switzerland
For Consular and administrative information, please contact the Consulate General in Atlanta, USA on 1 404 870 2000 or by e-mail. Please note that there is a turnaround time for 3 - 4 weeks for new passports. New biometric passports will require a visit to a Swiss passport issuing authority in order for biometric data to be captured. Further information can be found here. For on island emergencies please contact Mr. Peter Schmid on 326 4385 or by e-mail cayman@honrep.ch or peterschmid@candw.ky. Or from abroad by Satellite phone +88 1621 462160 (post event in case of tele-communications failure).
UK
For passport renewals, please visit here. For emergency travel documents during business hours, call the Cayman Islands Passport Office on 943 7678 or visit the Office at Sussex House, Elgin Avenue, George Town. For other consular information during business hours contact Tom Hines on 244 2434 or Gill Skinner on 244 2431. For out-of-hours consular assistance, contact the Duty Officer on +1345 925 4307.
USA
Visit http://kingston.usembassy.gov/travel_alerts.html or contact Mr. Gary Montemayor on 945 8173 or by email. The U.S. Consular Agency is now located at the Cayman Centre, Unit B-1, 118 Dorcy Drive, but will be moving to the Smith Road Centre during the summer months.
The Governor's Office would like to remind all other foreign nationals in the Cayman Islands that the advice above also applies to them. If you have not already done so, you should consider registering with your nearest Consular mission. Further details can be found on your own government's web pages.
Published 3 June 2013