News story
Kay review sets out measures to transform UK equity markets
In his review, 'UK equity markets and long-term decision making', Professor Kay sets out a clear vision and a set of principles to ensure that…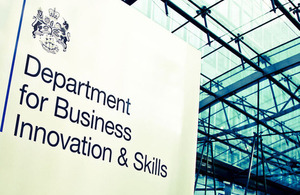 In his review, 'UK equity markets and long-term decision making', Professor Kay sets out a clear vision and a set of principles to ensure that equity markets support their core purpose of enhancing the performance of UK companies, and providing returns to savers. The report finds that short-termism is an underlying problem in UK equity markets, principally caused by a misalignment of incentives within the investment chain and the displacement of trust relationships by a culture based on transactions and trading.
His recommendations, which are aimed at key players in UK equity markets, as well as Government and regulators, look to:
Improve the incentives and quality of engagement, including by establishing an Investor Forum to foster more effective collective engagement by investors with UK companies

Restore relationships of trust and confidence in the investment chain, including by applying fiduciary standards more widely within the investment chain

Change the culture of market participants, including by adoption of 'good practice statements' by company directors, asset managers and asset holders that promote a more expansive form of stewardship and long-term decision making throughout the investment chain

Realign incentives by better relating directors' remuneration to long-term sustainable business performance and better aligning asset managers' remuneration to the interests of their clients
Launching the review, Professor Kay said:
"A lack of trust and poorly aligned incentives have helped create a culture of short-termism in our financial markets. This is undermining their role of supporting innovative, sustainable long-term business performance.
"We must create cultures where business and finance can work together to create high performing companies and earn returns for investors on a sustainable basis. This means moving away from a focus on short-term transactions and trading to an environment based on long-term trust relationships. We need to broaden the concept of stewardship through more and better cooperation between investors and companies. We don't want more regulation; we need to ensure that the regulation of market structures and incentives work properly for the real end users.
"There is no 'magic bullet' that will deliver these outcomes, but the range of recommendations set out in this review will provide a clear vision and roadmap to help us achieve a financial world very different from our recent experience."
Business Secretary Vince Cable said:
"This is an insightful and powerful review which describes vividly the flaws of the UK's financial markets and their relationships with investors and businesses.
"Since becoming Business Secretary I have been a vocal advocate for a new model of responsible capitalism based on creating long-term value rather than short-term profit. Equity markets have a vital part to play in ensuring we have well run companies providing sustainable returns for investors. This report is an important and timely contribution to the discussion of how we achieve this.
"Professor Kay has set out his clear vision for a way forward, with recommendations for government and others, and I will consider these in depth and look forward to responding in detail later this year."
The Review, commissioned by Business Secretary Vince Cable in June 2011, was established to consider how well equity markets are achieving their core purposes: to enhance the performance of UK companies, and to enable investors to benefit from this in returns from equity investment. An interim report in February this year collated the evidence gathered through extensive consultation which was then considered by Professor Kay and his advisory board to produce the final report released today.
Sir John Rose, a member of the review's advisory board, welcomed the report:
"I fully support John Kay's report. It has clearly identified a number of factors that contribute to both Investors and Companies taking a short term view and it has proposed some practical mechanisms to encourage long term investment. As importantly, it highlights the changes in attitude that must underpin such a change."
**Notes for editors
**
1. Copies of John Kay's review can be found at www.bis.gov.uk/kayreview
The Kay Review follows on from the Department's call for evidence 'A Long-Term Focus for Corporate Britain', launched in October 2010, which explored issues of economic short-termism in the UK. The responses found that there was evidence of short-termism in UK equity markets and of some agency problems in the investment chain. A summary of responses to this call for evidence was published in March 2011.

In June 2011, the Business Secretary Vince Cable asked Professor Kay to undertake an independent review, focusing primarily on how well UK equity markets are achieving their core purposes:
. to enhance the performance of UK companies by facilitating investment and enabling effective governance and decision making in support of long-term profitability and growth
. to enable investors to benefit from this corporate activity in the form of returns from equity investment.

Professor Kay's review was tasked to assess to what extent equity market participants are excessively focused on short-term outcomes to the detriment of these core purposes and what actions might be taken to address this. It is seeking to examine the incentives, motivations and timescales of all participants in the equity markets - from end investors, through pension funds, advisers, fund managers, and the markets, to company boards - and the relationships between them.

Professor Kay was supported by an Advisory Board during the review process comprising Sir John Rose, James Anderson and Chris Hitchen.

The Government's economic policy objective is to achieve 'strong, sustainable and balanced growth that is more evenly shared across the country and between industries.' It set four ambitions in the 'Plan for Growth' (PDF 1.7MB), published at Budget 2011:
To create the most competitive tax system in the G20

To make the UK the best place in Europe to start, finance and grow a business

To encourage investment and exports as a route to a more balanced economy

To create a more educated workforce that is the most flexible in Europe.
Work is underway across Government to achieve these ambitions, including progress on more than 250 measures as part of the Growth Review. Developing an Industrial Strategy gives new impetus to this work by providing businesses, investors and the public with more clarity about the long-term direction in which the Government wants the economy to travel.
BIS's online newsroom contains the latest press notices and speeches, as well as video and images for download. It also features an up to date list of BIS press office contacts. See [http://www.bis.gov.uk/newsroom](http://www.bis.gov.uk/newsroom) for more information.
Notes to Editors
Contact Information
Name BIS Press Office Job Title
Division Department for Business, Innovation & Skills Phone
Fax
Mobile
Email bispress.releases@bis.gsi.gov.uk
Name Nic Fearon-Low Job Title
Division Department for Business, Innovation and Skills Phone 020 7215 5078 Fax
Mobile
Published 23 July 2012