Karen Bradley visits Forced Marriage Unit
The Minister for Preventing Abuse and Exploitation visited the Government's Forced Marriage Unit (FMU) today (Monday 13 July).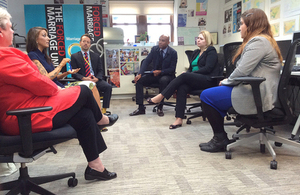 Karen Bradley spoke to caseworkers who directly support survivors and potential victims of forced marriage through the Government's public helpline.
The assistance provided by the FMU ranges from simple safety advice, through to aiding a victim in order to prevent their unwanted spouse moving to the UK, and, in extreme cases, to rescue victims held against their will overseas.
In addition, the Unit supports professionals who call the helpline, with questions about forced marriage, and runs an extensive programme of outreach work in schools and communities aimed at promoting zero tolerance of forced marriage and honour-based violence.
The Minister also learnt about FMU's work with frontline professionals. The Unit makes sure people working with victims and survivors are fully informed about how to approach such cases and that they know about the complicated issues and pressures that impact on an individual in a forced marriage situation. Overseas the FMU provides consular assistance to victims prior to or after marriage to secure their return to the UK.
Minister for Preventing Abuse and Exploitation Karen Bradley said:
The UK is a world-leader in the fight to stamp out this brutal practice, with our Forced Marriage Unit leading efforts to combat forced marriage both at home and abroad.

We made forced marriage a criminal offence to better protect victims and send a clear message that this brutal practice is totally unacceptable and will not be tolerated in the UK. We also hope that criminalisation will act as a deterrent.

However, we know legislation alone is not enough and we remain focused on prevention, support, and protection for victims and those at risk of becoming victims.
In 2014, the FMU gave advice or support related to a possible forced marriage in 1,267 cases. 79% of cases involved female victims and 21% involved male victims.
For support and advice on forced marriage call the Unit on 0207 008 0151.
Published 13 July 2015