World news story
'KAJAKI The True Story' Returns to Jordan
'KAJAKI The True Story' was filmed at Al-Kafrein, Jordan in the Summer of 2014 with the generous support of His Majesty King Abdullah II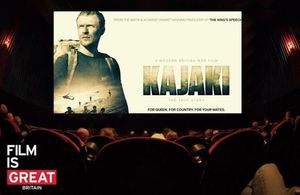 'KAJAKI The True Story' a Modern British War Film set in Afghanistan has its Jordan Premiere on Wednesday 18th March at Al-Hussein Cultural Centre in Amman.
The Premiere will be held under the Chairmanship of His Highness Prince Mired bin Ra'ad bin Zeid and approximately 500 guests are expected to attend, including the local crew and cast who worked on the film and some high profile special guests.
The Amman Premiere has been enabled by several sponsors and partners including the British Embassy, British Council, UKTI, Greater Amman Municipality, Royal Jordanian, Mahmoudia Motors, and the Winter Valley Warwick Dead Sea Resort and Spa.
Paul Katis, director who is attending the Premiere and hosting master classes this week commented: "It's fantastic to be back in Jordan to launch the film here. We couldn't have made the film without the support of everyone here and the welcome we received was exceptional. We made many friends here and I am so looking forward to seeing our Jordanian crew again as well as sharing the film with HRH Prince Mired who has been a supporter throughout."
'KAJAKI The True Story' was filmed at Al-Kafrein, Jordan in the Summer of 2014 with the generous support of His Majesty King Abdullah II ibn Al Hussein, The Royal Film Commission and the Jordanian Armed Forces.
As well as approximately 40 cast and crew travelling from the UK, around 70 local crew, cast and background artists worked on KAJAKI during a six-week period in July to September 2014.
As a thank you for the support shown to the producers, 'The Hashemite Commission for Disabled Soldiers' has been chosen as one of four charities who will receive a portion of the profits of the film. The chairman of the charity is HRH Prince Mired bin Raad.
Gulf Film LLC, based in Dubai, has recently been announced as the distributor for KAJAKI in the Middle East with a release date of 7th May.
KAJAKI The True Story opened in London on November 28 to endorsements from Afghanistan veterans for its authenticity, and glowing praise from UK press, earning comparisons to The Hurt Locker, 5-star and 4-star reviews across the board. Director Paul Katis and Producer Andrew de Lotbiniere were subsequently nominated for a BAFTA for outstanding debut at this year's awards.
KAJAKI The True Story is a tense war thriller, recounting an inspiring but shocking episode in recent British war history. The film depicts an incident involving a group of soldiers, mostly from the British Army's 3rd Battalion, The Parachute Regiment, stationed at the Kajaki Dam in Afghanistan in 2006. After one member of a three man patrol detonated a land mine, blowing off his leg, his fellow soldiers rushed to his rescue, only to find themselves trapped in an unmarked minefield, a relic of the Russian invasion of the 1980s, knowing that any movement in and out risked certain injury and possible death. Out of this harrowing day came extraordinary tales of bravery, selflessness and heroism, but also tragic consequences, for leader Corporal Mark Wright and his comrades, who risked their own lives to help each other.
KAJAKI The True Story is directed by Paul Katis and written by Tom Williams, with Gareth Ellis-Unwin of Bedlam (BAFTA and Academy Award® winner for The King's Speech) one of the Executive Producers. Producers are Paul Katis and Andrew de Lotbiniere, and Executive Producers are Alexa Jago, Alec Mackenzie, Norman Merry, Phil Hunt and Lee Vandermolen.
The young British cast is led by David Elliot as Corporal Mark Wright, with Mark Stanley, Scott Kyle, Benjamin O'Mahony, Bryan Parry, Liam Ainsworth, Andy Gibbins, John Doughty, Paul Luebke, Thomas Davison, Grant Kilburn, Robert Mitchell, Jon Paul Bell, Malachi Kirby and Ali Cook.
A portion of the profits from the film's release, as well as all revenue from ticket sales for the Premiere and four pre-release screenings, are benefitting equally four military charities – Help for Heroes, The Royal British Legion, Walking With the Wounded and The Hashemite Commission for Disabled Soldiers.
Published 16 March 2015