Justice: supporting business and promoting growth
Jonathan Djanogly met with business leaders to launch 'Justice for Business: Supporting Business and Promoting Growth,'this morning.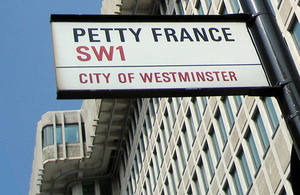 The new paper outlines how the Government's ambitious reform programme is making the justice system more effective, less costly and better for business. The reforms include streamlined court processes, improved regulation of legal services and reduced burdens on business through cheaper and easier dispute resolution.
Jonathan Djanogly launched the paper at the business led Dispute Resolution Commitment Breakfast with FT350 business leaders where he commended their support for out-of-court ways of resolving disputes.
Mr Djanogly said:
'The vital role that the justice system can play in helping business to flourish has not been adequately recognised in the past. Economic growth can only be achieved if businesses are free to trade and prosper and the justice system can help them to achieve that.
'By delivering lower legal costs, regulation that encourages investment, and court processes which are faster, simpler and cheaper the Government is overhauling the justice system so that business can get on with the job rather than getting bogged down in unnecessary litigation.'
Read a copy of the report: Justice for Business: Ministry of Justice Supporting Business and Promoting Growth.
Published 8 May 2012