News story
Justice Secretary visits 2 prisons on first full day in office
Elizabeth Truss visited HM Prison Belmarsh and HM Prison Isis on Friday 15 July.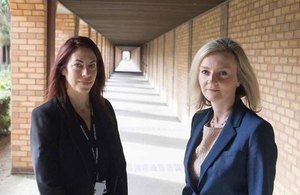 The newly appointed Lord Chancellor and Secretary of State for Justice, Elizabeth Truss, visited 2 prisons this morning on her first full day in office.
Elizabeth Truss, who was appointed Justice Secretary by Prime Minister Theresa May yesterday, met front line staff as she visited HM Prison Belmarsh, a Category A prison, and HM Prison Isis, a Category C prison and Young Offenders' Institution, both in south-east London.
The Justice Secretary saw the education facilities in both prisons, visited residential wings and heard about the progress being made in rehabilitation and prisoners' mental health.
Justice Secretary Elizabeth Truss said:
I am delighted and honoured to be appointed the Lord Chancellor and Secretary of State for Justice and look forward to implementing the vitally important justice agenda.

I am grateful today to the governors and staff of both prisons, for showing me the impressive work they are doing to reduce reoffending and talking to me about some of the challenges they face.

I look forward to working with Ministry of Justice staff and other agencies on our priorities – improving public safety and reducing reoffending, building a One Nation justice system, and upholding the rule of law.
Elizabeth Truss, who is the first female Lord Chancellor and Secretary of State for Justice, previously served as Secretary of State for Environment, Food and Rural Affairs. She was elected the Conservative MP for South West Norfolk in 2010.
Published 15 July 2016