Press release
Justice Secretary meets college students from first prisons work experience scheme
Justice Secretary Elizabeth Truss meets students who have completed a new work experience programme with Her Majesty's Prison Service.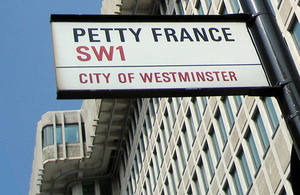 First initiative of its kind offers a week's experience in a prison for students
Announcement comes as HMP Norwich receives £1.1m to boost frontline staff
Governors given more autonomy to incentivise and recruit new staff for the long term
Follows £100m investment in 2,500 extra officers to reduce violence across the estate
Justice Secretary Elizabeth Truss today met students who had completed a new work experience programme with Her Majesty's Prison Service during an event at HMP Norwich.
Today's visit coincides with the news that HMP Norwich is set to receive an extra £1.1m from the government to boost hard-working frontline staff as part of a major recruitment drive.
As part of a new scheme, the first of its kind in the country, six students from City College Norwich spent the week experiencing the prison service first-hand – giving them a rare insight into a wide-range of job opportunities. The innovative collaboration between the HMP Norwich and its local college aims to raise the profile of careers in the prison service.
The students, who were all over 18, came through a competitive interview process and security vetting, and as part of their Public Services Extended Diploma have already completed a unit on custodial care. They took part in training workshops before having the chance to see and hear more about prison officers' experiences on the frontline.
The Secretary of State was able to hear first-hand their experiences of the week, which included learning from prison staff in different roles, witnessing sniffer dogs working in security and gaining an insight into a drug awareness programme.
The visit comes just weeks after the Justice Secretary announced a major package of reforms to improve safety in prisons. This includes an additional £100m to boost front line staff which will result in more than 2,500 additional officers joining the service over coming months.
Justice Secretary Elizabeth Truss said:
"By reforming offenders, prison officers do a vital and often challenging job, day in and day out, which too often goes unnoticed.
"We want to shine a light on the excellent job they do and attract new and talented people to work in our prisons.
"We're making good progress in recruiting more staff while giving governors greater control over recruitment into their prisons. I am delighted to see HMP Norwich trailblazing this approach and highlighting the ways in which the prison service can offer a rewarding career."
In addition to supporting current staff, the Government wants to recruit a new, strong and respected workforce through new apprenticeship and graduate recruitment schemes. This will see people earning and learning at the same time.
Giving the Governors greater autonomy over decisions made in prisons will allow them to target training and work in prisons to match more closely the needs of the local labour market whilst working with local communities and businesses.
The Justice Secretary and Prisons Minister, Sam Gyimah, are visiting prisons across England and Wales nationwide to engage with and listen to prison officers and governors on the frontline.
Last month, the Justice Secretary announced an extra £14 million for extra resources at ten of the most challenging prisons in England and Wales. This will mean an extra 400 staff in the coming months to help curbs rising levels of violence and self-harm fuelled by dangerous psychoactive substances. We are well on the way to recruiting these staff and have already made almost 200 job offers.
Patrick Setters, who worked at Norwich Prison before joining City College Norwich as a Lecturer in Public Services said:
"There is a recruitment shortage for prison staff and this is one way of helping to address that. It is useful for students who are thinking of progressing onto our Public Services degree course, as it has shown them the reality of management in a large public service organisation. In the long-term this will recruit dedicated staff who are aware of the challenges and therefore retain staff."
NOTES TO EDITORS:
The White Paper was published on 3 November which announced:
Rigorous new standards to get prisoners off drugs and into work and the testing of all offenders for drug use on entry and exit from prison
testing of offenders' levels of English and maths so progress made on the inside can be measured
a new duty on the Secretary of State to intervene when prisons are failing
no-fly zones over prisons to combat the new scourge of drones dropping drugs and contraband into jail while the Government continues to work with mobile phone operators to block illegal mobile phone use through cutting-edge technology.
For more information on the White Paper.
Since publication of the White Paper:
Almost 200 job offers have been made to new recruits wanting to join the Prison Service, meaning government is well on track to recruit the first 400 of the additional 2,500 officers to boost frontline staff by the end of March 2017;
Salaries of hard-working staff have been boosted by up to £4,000 at some of the most difficult-to-recruit prisons and those with high levels of staff-turnover, including HMP High Down, HMP Downview and HMP Coldingley;
We have a proven track record of attracting a significant number of applications, with some tens of thousands a year wanting to become prison officers and if we have as many applicants as we did in 2014 then we will be able to fill the majority of roles;
We are making a substantial investment in marketing and targeted recruitment to generate even more interest in these valuable roles;
We have put in place plans to increase our training capacity by 30% over the next 6 months.
Find out more about NOMs Careers
Published 25 November 2016