Justice Secretary hears views from those working in Welsh Justice System
Chris Grayling made his first visit to Wales as Secretary of State for Justice.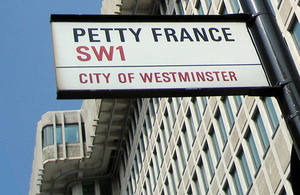 Chris Grayling made his first visit to Wales as Secretary of State for Justice today to better understand the issues facing the Welsh justice system. 
He met with First Minister Carwyn Jones and later with senior members of the Welsh judiciary at Cardiff Crown Court. HM Courts & Tribunals Service staff and the judiciary, along with partner agencies, are working together successfully on a number of initiatives aimed at providing a more effective, efficient and speedy justice system. This will ensure that the needs of Welsh citizens - whether they are victims, witnesses, defendants or parties to a case - are met.                                                                   
Secretary of State for Justice Chris Grayling said:
'I wanted to see first-hand how Ministry of Justice business operates in Wales. The courts, prisons and Probation Trust are all key parts of communities across Wales and play a central role in reducing reoffending.
'I am keen to work with the First Minister to deliver effective and swift justice in Wales, ensuring that non-devolved and devolved partners work together to improve services.'
While at Cardiff Prison, he met with mentors and outside agencies doing 'through the gate' work, as well as prisoners and staff working in The Clink Cymru Restaurant. The Clink provides prisoners with the opportunity to train towards City and Guilds NVQ qualifications.
Cardiff Prison works successfully with National Rail Wales on the 'Railtrack' project. The prison has also developed partnerships with a wide range of other businesses from various employment sectors, such as Alun Griffiths Construction, Monwell Signs and mentoring agency GREW.
As part of the visit, Chris Grayling also met staff from Wales Probation Trust to discuss the management of offenders in the community and the important role they play in protecting the public from the most dangerous offenders. 
Notes to editors:
For further information please call 020 3334 3510.
The Clink Cymru at HMP Cardiff opened to the public in September 2012 and operates using a similar structure to The Clink Restaurant at HMP High Down, in Surrey.
Over 30 category D prisoners from HMP Prescoed and HMP Cardiff work full-time within the 96 cover restaurant and kitchen and train towards gaining nationally recognised City & Guilds NVQ qualifications before returning to their retrospective prisons at the end of the working day. Upon their release, The Clink Charity will help graduates find employment within the Welsh catering and hospitality industry. 3. Wales Probation is an innovative organisation and has contributed to the thinking behind Payment by Results for rehabilitative services. It is also working with the private and voluntary sectors to deliver a mentoring scheme for short term prisoners who would not normally have any support on release.   4. Current initiative of HMCTS Wales include: flexible Courts; Family Justice Review; digitalisation in the Criminal courts; improved use of video technology; early guilty plea scheme; and abolition of committals.
Published 27 November 2012