Justice Secretary announces new female offender funding at Women's Aid speech
Justice Secretary David Gauke announced in a speech at Women's Aid that community services supporting vulnerable women have been awarded £1.6 million funding, as part of the Government's commitment to reduce the number of women entering the criminal justice system.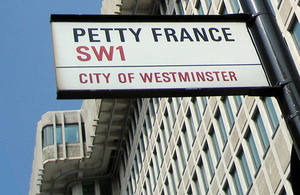 £1.6 million for 18 projects - including support for domestic abuse victims
Recipients are located across England and Wales and include the creation of a new Women's Centre in York as well as the expansion of existing services
The money will benefit 17 different services and 83 female rape support centres.
It includes support for the creation of a Women's Centre in York which will offer family-friendly services, including crèche facilities, to women at risk of being affected by issues such as repeat offending, mental health problems and homelessness. Almost 60% of female offenders have experienced domestic abuse and this centre, as well as several of the other organisations awarded funding, works with victims of domestic abuse.
Secretary of State David Gauke announced the funding in a speech at Women's Aid, where he reaffirmed his commitment to tackling domestic abuse following this week's landmark Domestic Abuse Bill.
Secretary of State David Gauke, said:
I am delighted to announce the allocation of this funding which will help divert women away from crime by providing and enhancing dedicated community services.

A number of the organisations receiving money will provide entirely new services, while other existing schemes will be extended. All will seek to break the cycle of reoffending and support vulnerable women in the community.

We recognise that many women in the criminal justice system are victims of domestic and sexual abuse themselves and are confident this investment in specialist services will benefit those women as well as wider society.
While serious crimes will always be punished, female offenders are amongst some of the most vulnerable people in society. Many face issues with substance misuse and mental health problems, and face difficulty finding housing, often as a result of repeated abuse and trauma.
Domestic abuse in particular can play a major part in female offending and that abuse can take different forms, including coercive and controlling behaviour. Several of the organisations awarded grants today work specifically with victims of domestic abuse and women who are at risk of abuse.
These include Cheshire without Abuse, which will use its funding allocation to provide an extended service at its women's centre in Crewe on Friday, Saturday and Sunday nights. Women who attend the centre have identified these as the times they are most in need of support for mental health crisis.
The new money will also allow for specialist one-to-one domestic abuse support in the East Midlands, including therapy programmes and counselling services aimed at improving self-esteem.
Funding will also be provided to 83 rape support centres, recognising that many female offenders are also victims of sexual violence. These centres will be encouraged to improve their links with women's centres and similar organisations to ensure more women are receiving the support they require.
As with the first wave of allocations, each project will be evaluated to measure its success so that any relevant learning can be applied to other vulnerable women across the criminal justice system.
Notes to editors:
The Government has committed to investing £5 million over two years in community provision for women in the justice system and those at risk of offending. This includes £2m to tackle domestic abuse.
An initial allocation saw £3.3 million awarded to 12 organisations providing a range of specialist support as well as the development of new women's centres to offer holistic support to vulnerable women.
The funding follows the publication of the Government's Female Offender Strategy in June last year.
The successful bidders are:
Anawim, Birmingham: Funding will support the charity's New Chance project, which aims to provide an alternative to prosecution and to help women address needs that may underlie their offending.
Brighter Futures Centre, Staffordshire: Enhance provision for female offenders and vulnerable women at risk of offending across Staffordshire by providing a combination of early intervention and intensive support on issues including homelessness, substance misuse and health.
Brighton Women's Centre, Sussex: To increase capacity of a women's Community Hub in Eastbourne and Hastings, as well as sustaining a community hub in Brighton. It will also enhance services provided in the Worthing Community Hub in partnership with Turning Tides.
Cambridge Women's Resources Centre, Cambridge and Peterborough: To enhance specialist provision for women who are sex working and the professionals supporting them across Cambridge and Peterborough.
Cheshire Without Abuse (CWA), Crewe: To develop a peer support lounge at CWA's women's centre in Crewe. This will provide support including skills for emotional resilience and practical advice with food and finances.
CoLab Exeter: Funding for the creation of a dedicated space where women feel safe to take part in workshops that help them address their often complex needs, and for further improvement at the wellbeing facility.
C2C, Northampton: Provision for a women's centre support worker and extended hours to provide greater flexibility for service users who cannot attend sessions during normal opening hours.
Hibiscus, London: The money will fund a project worker at Westminster Magistrates Court and extend the opening hours at the charity's community resettlement service at their Women's Centre in Islington.
Nelson Trust, South West: Diversionary Rural Outreach Workers will improve the community support and women-only spaces available to women living in rural areas of Gloucestershire, Wiltshire and Somerset.
North Wales Women's Centre: A project aiming to improve the lives of disadvantaged women, particularly those with multiple and complex needs who are at particular risk of offending or reoffending. The centre will provide practical help alongside support to improve emotional well-being and family support.
Refuge, Derby: Funding will provide additional equipment and essential items for women upon leaving prison.
Together Women (TWP), West Yorkshire: To enable the development of an integrated domestic abuse, housing and support service to provide practical help with accommodation.
Trevi House, Plymouth: To help fund a Grow Internship programme in which female offenders will learn public speaking and assertiveness skills.
The Good Loaf, Northampton: To extend social enterprise bakery, the Good Loaf, into the town centre offering more employment opportunities for female offenders and ex-offenders, and extending opening out of hours crisis services with a specific focus on mental health.
Women in Prison, Surrey: To fund the costs of two Specialist Women's workers at the Women's Support Centre in Woking who will work in partnership with the Surrey Police Checkpoint scheme to divert women out of the criminal justice system.
Women's Work (Derbyshire) Ltd; Nottingham's Women's Centre; and New Day New Dawn: To allow for extended weekend opening times, additional caseworkers and part-time staff. The funding will also provide specialist one-to-one domestic abuse support through therapy programmes and counselling services.
York women's centre: Funding to develop York's first dedicated Women's Centre to include family-friendly services enabling women with children to access the support available.
Female Rape Support Centres: This will fund an uplift to the Ministry of Justice grant for the network of 83 female rape support centres, to build partnership working between these centres and other community organisations supporting female offenders and women at risk of offending.
Published 24 January 2019