Justice reforms move to next stage
Plans for radical reforms to the justice system have moved another step forward in the Houses of Parliament.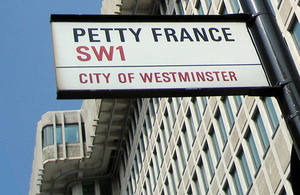 The House of Lords' Report Stage of the Legal Aid, Sentencing and Punishment of Offenders Bill was completed yesterday. (Tuesday 20 March) The Bill will now move forward to a Third Reading in the Lords next week, on Tuesday 27 March.
The Bill sets out the Government's plans to reduce reoffending, improve the sentencing framework, reform the legal aid system and improve the laws for no-win no-fee legal claims.
It includes measures to crackdown on knife crime, dangerous driving, squatting, hate crime and metal theft.
The Bill also toughens up community sentences, ensures that prisoners work harder, longer and on meaningful tasks, and increases payback to victims.
After next week's Third Reading the Bill will return to the House of Commons for MPs to consider amendments from the Lords.
Published 21 March 2012