News story
Justice Data Lab scoops two awards for services to voluntary sector
A pioneering analytical service that number crunches reoffending data for organisations working with offenders has won two prestigious awards.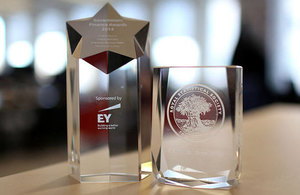 The Justice Data Lab demonstrated innovation and insight to win the Royal Statistical Society award for Official Statistics, and the Government Finance Insight Award. The award-winning service supports voluntary and community sector organisations to understand their specific impact on reducing reoffending.
Since its launch in April 2013, it has already handled almost 150 requests for reoffending information and published 121 reports. Of those a third were from a voluntary or community organisation.
The service matches data from organisations working with offenders with national records to produce reoffending rates tailored to that group of individuals, proving the effectiveness of a particular intervention.
Justice Minister Andrew Selous said:
These awards recognise the important service being provided by the Justice Data Lab.

We have placed the voluntary sector at the forefront of our new approach to rehabilitation, and that's why it's vital they are able to see what works to turn offenders away from crime.

Giving voluntary organisations the tools to understand their impact allows them to compete for contracts with the confidence that they are working from sound evidence and proven success.
Under the government's major reforms to probation 21 regional Community Rehabilitation Companies (CRCs) have been set up to rehabilitate medium and low risk offenders, and a new National Probation Service is tasked with protecting the public from high-risk offenders.
Nineteen of the CRCs will be led by new partnerships and joint ventures between private sector firms and some of Britain's biggest and most successful rehabilitation charities, and six will be run with the involvement of a probation staff 'mutual'. In addition, around 75 per cent of the 300 subcontractors named in the successful bids are voluntary sector or mutual organisations, putting them at the frontline of offender rehabilitation.
The CRCs will provide an unprecedented level of support to an extra 45,000 short sentenced offenders who currently get no statutory support and reoffend at an alarming rate.
Latest reoffending figures show that more than 57 per cent of offenders released after sentences of less than 12 months go back to crime within a year. Our new approach to rehabilitation will see almost all offenders receive at least 12 months supervision on release from prison.
For more information, please contact the Ministry of Justice press office on 020 3334 3536.
Published 12 December 2014