Justice data is opened up
More than 1.2m anonymised court records have been published in the latest stage of the Government's plan to open up the justice system.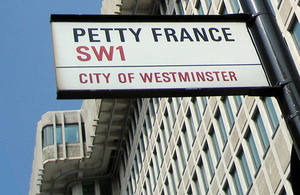 The information, released on the Justice website, shows every sentence handed down at each court in the country between July 2010 and June 2011, along with the age and ethnicity of each offender. This will enable the public to see exactly what sentences are being handed down in their local courts and to compare different courts.
The figures have been published alongside the quarterly Criminal Justice statistics, which give a comprehensive overview of the Criminal Justice System.
Today's publication is the latest in a series of moves to increase the justice system's transparency.
Justice Secretary Kenneth Clarke said:
'Open justice is a long-standing and fundamental principle of our legal system. Justice must be done and must be seen to be done if it is to command public confidence.
'Modern technology allows us to be more open. This Government has ambitious plans to increase transparency at every stage to allow everyone to see what is happening better and how the system works.'
Earlier this month easy to use online maps were published on the new 'Making Sense of Criminal Justice' website, where people can view information about sentencing and reoffending in their area and compare it with national trends.
Further moves planned to improve transparency include:
Allowing broadcasting from courts for the first time - in September the Government announced its intention to change legislation to enable broadcasting in specific circumstances, starting at the Court of Appeal.
Court-by-court statistics for the time taken for cases to be processed, from offence to conviction, allowing people to compare the performance of their local courts.
Details on how many trials were ineffective and why they were ineffective.
From next May providing justice outcomes and police actions on the national crime mapping website, Police.uk, so that people can see what happens next after crimes are committed on their streets.
More information on the civil and family justice systems, including how long it takes each court to process small claims hearings, larger cases and care proceedings.
Notes to editors
People can learn about how the justice system works, play the role of judge in mock trials and see information about their local area at the Making Sense of Criminal Justice website.
More information on the Government transparency agenda.
For more information, please call the Ministry of Justice press office on 020 3334 3536. Follow us on twitter @MoJGovUK
Published 24 November 2011