Justice and Fairness' competition finalists meet Foreign Office Minister Lord Howell
Seventeen students met Minister of State Lord Howell as part of a visit to the Foreign Office. The three teams from different schools were finalists in the competition run by the British Red Cross and international law firm, Allen & Overy.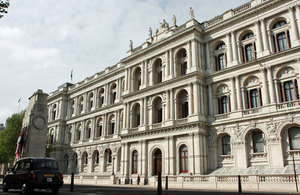 The 'Justice and Fairness' competition asked young people to show off their knowledge and experience of humanitarian issues by submitting presentations based on the theme of justice and fairness. Entries complemented the students' work for Citizenship or Citizenship Studies at school and the successful entries were put through a rigorous judging process. The teams focussed on various humanitarian themes, including child soldiering and terrorism.
The students from Coleraine High School in Coleraine, Northern Ireland; Gaynes High School in Upminster, Essex; and Our Lady & St. Patrick's College in Knock, Northern Ireland, were given a guided tour of the Foreign & Commonwealth Office before taking part in a mock United Nations sanctions debate and meeting Lord Howell.
Speaking ahead of the meeting, Lord Howell said:
"I am delighted to welcome the Justice and Fairness competition winners to the Foreign and Commonwealth Office. I have been very impressed with the hard work and energy each team has put into their projects. It is particularly encouraging to see students from across the country engaging in the issue of Justice and Fairness, something that is at the very heart of our foreign policy values."
Published 23 November 2010