Juror jailed for discussing trial with defendants
A juror who discussed the trial he was involved in with 2 of the defendants has been jailed for 4 months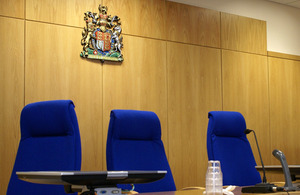 Judges at the High Court today jailed a juror for 4 months for contempt of court, after he admitted discussing an ongoing trial with 2 of the defendants.
Stephen Pardon was a juror on a 13-week trial of 6 men at Wolverhampton Crown Court in December 2011. He admitted that before the jury had finished deciding all of its verdicts he approached one of the defendants and discussed the jury's deliberations with him. At that stage 3 defendants had been convicted on one count, and one acquitted.
The trial judge, HHJ Walsh, was informed and took no action as he wished to see if the jury was able to reach a verdict on the remaining count. It became apparent that they could not and he discharged them. After this, Pardon attempted to approach a second defendant who declined to speak with him.
The judge referred the contempt to the Attorney General and the 3 convicted defendants lodged appeals. Today's hearing was before the Lord Chief Justice Lord Judge, Mr Justice Mitting and Mr Justice Griffith Williams.
Attorney General Dominic Grieve QC MP said:
There is a compelling public interest in addressing any contempt of the judicial process. Mr Pardon's conduct had serious consequences. The trial was disrupted and as a result the 3 convicted defendants appealed against their convictions, convictions won after a lengthy police investigation and trial.
Section 8(1) of the Contempt of Court Act 1981 provides, so far as relevant, that: 'it is a contempt of Court to obtain, disclose or solicit any particulars of statements made, opinions expressed, arguments advanced or votes cast by members of a jury in the course of their deliberations in any legal proceedings'.
Under section 8(3), the Attorney General has responsibility for bringing proceedings to address such contempt.
Published 4 December 2012