World news story
July 31st is World Ranger Day
World Ranger Day commemorates park rangers across the world who have been injured or lost their lives in the line of duty, and also celebrates the critical role rangers play in protecting our natural and cultural resources, including wild animals and plants.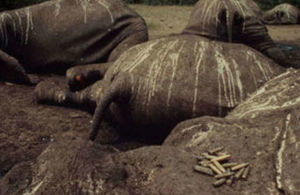 The international illegal trade in wildlife is increasing the risk of extinction for many endangered and rare species of wildlife and leading to over-exploitation of others, undermining the well-managed, sustained utilization of wild species, adversely affecting natural resources, and the livelihoods of rural communities. Estimated to be worth up to £17 billion per year, this black market trade is run by highly organized criminal networks who are using ever-more sophisticated techniques.
Rangers are men and women on the frontline of defense in the battle against the illegal wildlife trade. They work tirelessly in the face of adversity to protect wild plants and animals from an ever strengthening threat, and without rangers, iconic species such as tigers, rhinos and elephants would have long since vanished from the wild.
The Thin Green Line Foundation estimates that over 1,000 Rangers have been killed in the line of duty in the last 10 years. Sadly, in the past 12 months we have lost a further 101 rangers in the line of duty that were reported to the International Ranger Federation.
Today, the Embassy of the United Kingdom in Tanzania joins the rest of the world in saluting the dedication and commitment shown by these hardworking park rangers who are serving in the front-lines, in recognition of their dedicated work to protect our natural resources and cultural heritage for current and future generations. The UK Embassy in Tanzania is working with the Government of Tanzania to raise awareness and strengthen law enforcement to combat illegal wildlife trade and to create a safe environment for enforcement officers.
Published 31 July 2017