News story
Judicial Pension Board members appointment
Susan Andrews and Ellen Kelleher have been appointed as independent board members of the Judicial Pension Board.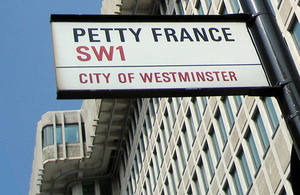 The Lord Chancellor announced the appointments of Susan Andrews and Ellen Kelleher as independent board members of the Judicial Pension Board for 3 years commencing 16 January 2015. These appointments are subject to security clearance.
Ms Susan Andrews has been a Director of Ross Trustees Services Limited, a company providing professional pension trustee services. Previously, she was a pension lawyer for 25 years; between 2000 to 2014 she was at Pinsent Masons LLP/Trustee Solutions Limited after roles at Evershed from (1998 to 2000), Herbert Smith (1989 to 1994) and Noble Lowndes & Partners Limited (1986 to 1989). She was also the past President of the Pensions Management Institute and past Chairman of the Committee of the Association of Professional Pension Trustees.
Mrs Ellen Kelleher has been at PricewaterhouseCoopers since 1994, where she is currently a Director leading the Pensions Management Consultancy practice advising on pensions administration and systems, operational effectiveness and governance. Her earlier career was spent in pensions administration and employee benefit consultancy.
The appointments have been conducted in accordance with the Commissioner for Public Appointments' code of Practice on appointments for Public Bodies. Neither of the 2 have declared any political activity.
Published 19 March 2015