Jubilee River Pageant gets a helping hand from London's cadets
London's Armed Forces cadets helped play a key role in the success of the Queen's Diamond Jubilee River Pageant on Sunday 3 June 2012.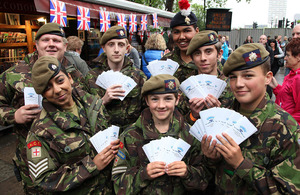 Cadets from all three Services were escorting VIPs, selling programmes, distributing leaflets and helping members of the public at various London bridges.
Manning Lambeth Bridge from an early hour on Sunday morning were Army Cadets and adults from the South East and South West London Army Cadet Forces. Elsewhere City of London and North East London cadets and adults were tasked with the distribution of information leaflets.
Meanwhile, over at Imperial Wharf Marina, near Chelsea Harbour Pier, a small team of Army and Air Cadets and adults were escorting and helping the many VIPs embarking on the passenger craft that were part of the flotilla.
Not only was Imperial Wharf the departure point for many members of the Royal Family and other VIPs, but it was the start point for the fabulous rowing craft 'Gloriana', with Matthew Pinsent, Steve Redgrave and other sportsmen and women aboard.
On the river the Sea Cadets in their motor craft grabbed everyone's attention as in seemingly endless numbers they led off a whole section of the flotilla.
Colonel Hugh Purcell, Chair of Youth Organisations Uniform (YOU) London, said before the pageant:
I am delighted that some 1,500 young people and supporting adult volunteers drawn from 11 organisations across Greater London will play a major part in the pageant. And this in addition to the parts some will play within their borough or, more widely, in direct support of their parent organisation.
It seems entirely fitting, looking forwards as well as backwards, that these outstanding organisations with over a thousand years of successful experience of youth engagement should be able to reinforce their close links with Her Majesty and help celebrate such a significant day.
Published 12 June 2012