News story
Jordan's right on target
Dounreay apprentice tells us about his darts ambitions.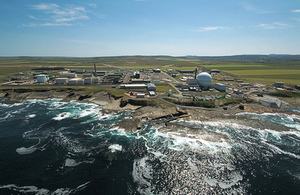 Following on the heels of the recent all British final of the World Professional Darts championship, Dounreay's 2nd year electrical apprentice Jordan Oag tells us about his own ambitions to play at the famous Lakeside venue one day.
"I have been playing darts since I was about eight, so over ten years, although I only joined the Wick & District Darts League when I was eighteen due to the licensing laws.
"Many years ago my dad played for the Old Smiddy Inn in Thrumster and it's down to his encouragement and years of playing darts that got me into the sport and persuaded me to join the league.
"My dad always loved darts and he always said to me "you never try you never know", so I tried and so far I've done pretty well since I started playing for the Norseman Hotel in Wick.
"Joining the British Darts Organisation (BDO) means if selected I can now play for the Highlands, and gain ranking points by entering BDO Open matches, which would give me enough ranking points for the invitational tournaments.
"Playing darts means everything to me and I now have the opportunity to go away and learn the game properly and hopefully become more consistent and improve my technique, and after my apprenticeship, I might think about mounting a serious challenge for the world rankings.
"I can't see myself turning professional on a full-time basis as it requires a huge gamble in leaving your job and travelling all over the world, but if I get good enough in time, you never know, never say never! There is a lot of travel involved and it does cost a lot of money, especially when travelling all the way to England and as I'm just starting out there isn't the sponsorship support available.
"My darts idol is Gary 'The Flyin' Scotsman' Anderson, who was recently crowned Professional Darts Corporation champion of the world. Who knows, maybe one day that could be me."
Published 5 February 2015