World news story
Jordanian Chevening and BUAA raise 1800 JOD for cancer treatments
Charitable quiz raises funds for King Hussein Cancer Center (KHCC)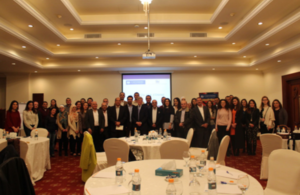 On Wednesday 30 March the Chevening and British Universities alumni associations in Jordan hosted a charitable quiz evening in support of the King Hussein Cancer Foundation (KHCF). Generous donations by the alumni raised an amazing 1800 JD to support the Foundation's Goodwill Fund which provides financial support to underprivileged cancer patients who do not have medical coverage and are unable to pay for their cancer treatment at the King Hussein Cancer Center (KHCC).
Speaking during the event Mayse Nababteh, fellow Chevening Scholar and Head of International Unit at the King Hussein Cancer Foundation said: "We cannot thank everyone enough for their generous gift to help save the lives of underprivileged cancer patients seeking life-saving treatment at KHCC. Your support is vital to our fight against cancer and continues to make an immediate difference in the lives of cancer patients. You have not only embraced our cause but have been true champions in this fight as we are currently overwhelmed with patients seeking treatment at KHCC."
The event was attended by British ambassador to Jordan and many prominent alumni of the Chevening scheme. Chevening is the UK government's international awards scheme aimed at developing global leaders since 1983. Funded by the Foreign and Commonwealth Office (FCO) and partner organisations, Chevening offers two types of award – Chevening Scholarships and Chevening Fellowships – the recipients of which are personally selected by British Embassies and High Commissions throughout the world. Chevening offers a unique opportunity for future leaders, influencers, and decision-makers from all over the world to develop professionally and academically, network extensively, experience UK culture, and build lasting positive relationships with the UK. For more information on Chevening: www.Chevening.org. Are you already a Chevening or British Universities alumni and would like to take part in these events on future? Please contact Rakan Madi on (rakan.madi@gmail.com) to be added to our mailing list.