Jonathan Lyle named as new Dstl Chief Executive
Mr Lyle, who is currently the Director of the Programme Office at Dstl, will take up his new appointment in March 2012. Jonathan Lyle is a …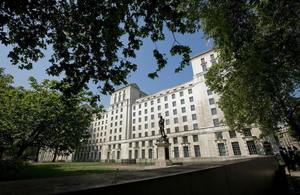 Mr Lyle, who is currently the Director of the Programme Office at Dstl, will take up his new appointment in March 2012.
Jonathan Lyle is a Chartered Engineer and a Fellow of the Institution of Engineering and Technology. His first post in the Ministry of Defence was at Portsdown and his early career was spent in the maritime sector at Bath.
In 1989 he moved to London and the air sector where he undertook a number of costing and investment appraisal studies for future aircraft systems.
In 1991 he joined the Office of Science and Technology in the Cabinet Office, leading work on strengthening procurement of Science and Technology (S&T).
He was involved in the production of the 1993 S&T White Paper 'Realising our Potential' and the restructuring of the Research Councils. Subsequently, within the Department of Trade and Industry, he ran the LINK collaborative research scheme.
In 1996, he returned to defence procurement, managing the VC10, Tucano and Dominie programmes, and then the A400M and C-17 transport aircraft projects.
In 2000 Mr Lyle was promoted to the Senior Civil Service and appointed leader of the Future Offensive Air System Integrated Project Team (IPT). In 2002 he took over the Future Strategic Tanker Aircraft IPT.
In 2004, on promotion, he was appointed Operations Director for the Defence Procurement Agency's aircraft, weapons and helicopter projects, and led the helicopter and weapons sectors of the Defence Industrial Strategy.
At the inception of Defence Equipment and Support in 2007, Mr Lyle was appointed as Director General Helicopters, with responsibility for all new and in-service helicopters. During 2008 and 2009, he was Director of the College of Management and Technology at the Defence Academy, Shrivenham.
He was also Head of the Royal Corps of Naval Constructors from 2007 to 2011.
He was appointed to his present role at Dstl in March 2010.
Frances Saunders, who has been the Chief Executive at Dstl for five years, announced her intention to stand down in June.
She congratulated Mr Lyle on his appointment, saying:
These are interesting times for Dstl. The Trading Fund Review laid out a much clearer revised role for us and Jonathan now faces the challenge of leading Dstl through a very important time in Defence Transformation.

The organisation has the ability to make a real difference to the defence and security of the UK and I am confident Jonathan can ably lead Dstl through its next phase of development.
Dstl maximises the impact of Science and Technology for the defence and security of the UK and supplies sensitive and specialist S&T services for the Ministry of Defence and wider government, and leads and undertakes those activities that it would be inappropriate to carry out in the private sector.
Dstl is a trading fund of the MOD and is run on commercial lines. It has a turnover of some £550m, much of which is spent in industry and academia.
Published 13 December 2011