World news story
Jon Wilks calls Syrian citizens to apply for Chevening 2015/16.
Jon Wilks,Special representative for Syria, announces the opening of 2015/16 Chevening Scholarship programme for Syrians.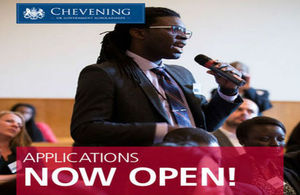 Speaking as the special representative for Syria, Jon Wilks said:
I am very pleased to announce that the UK government is now open to applications for the 2015/2016 Chevening Scholarships Programme from Syrian citizens. This year we will have more scholarships than ever before for Syrian applicants. Chevening Scholarships are the UK government's global scholarship programme, funded by the Foreign and Commonwealth Office (FCO) and partner organisations. The Scholarships offer the opportunity to study for a one-year Master's degree at any of the UK's leading universities, and are awarded to outstanding established or emerging leaders across a wide range of fields. This is just one of the ways that the UK is supporting the Syrian people in their attempts to build a better future for their country.
This year we are particularly interested in applications from people who are seeking to further their studies in areas such as conflict resolution and peace-building; law and human rights; governance, democracy and the media; and economic development and reconstruction.
The programme provides a unique opportunity for leaders of the future to build a global network of continuing professional significance and also to establish social, cultural, academic or commercial partnerships with the UK. If you are a Syrian and you believe that you can use a Chevening scholarship to help you develop your career to the benefit of your country then I urge you to apply.
Applications for a Chevening Scholarship must be submitted online at www.chevening.org and the deadline for receipt of applications is 15 November at 23.59 GMT. There is guidance online but if you have further questions about the programme then you can use the contact us function on the website www.chevening.org.
Good luck to all applicants and future Chevening scholars!
Published 5 August 2014